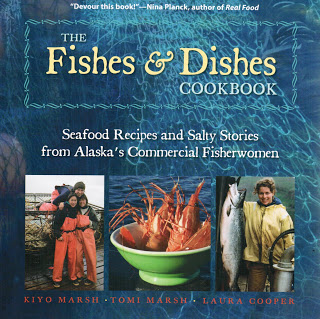 It's not often you will find a cookbook from female fisherwomen, and from Alaska, even less.  My daughters, Kristina and Kara, took a vacation to Alaska several months ago and found this great cookbook at the Captain Cook Hotel in Anchorage to add to my library.  Some of the most dangerous work in the world takes place in the commercial fishing grounds of Alaska, where crews deal with gale-force winds and dangerous waters in the tempestuous, stunning fury of Mother Nature, but also experience the exhilaration and beauty of the wild environment.  The women work in this highly male-dominated industry as cooks, deckhands, hook throwers,  and captains.  They are expected to work just as the men do while aboard the fishing vessels.  They also manage to catch fish like this halibut: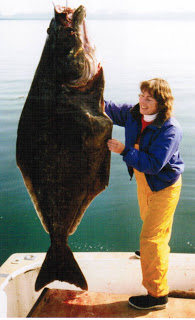 Amidst being tossed around in waves that are like bucking broncos, the women from this cookbook managed to come up some incredible recipes.  Their tantalizing recipes include Salmon Dumplings with Coconut Curry Sauce; Spicy Crab and Artichoke Melt Sandwiches; Seared Halibut with Lemongrass and Chili; Oven-Roasted King Salmon with melted Leeks and Chanterelles; and an intriguing libation from the Northland called Dark and Stormy, which is dark rum and ginger beer, over ice, with a lemon twist.  If you love adventurous stories about gutsy women, and also love great seafood recipes, you can't go wrong with this book.
While the girls were at the Captain Cook Hotel enjoying a lovely view of Anchorage and eating some delicious seafood one evening, who should walk in the restaurant but Drew Barrymore and Ted Danson!  Seems they were filming a movie there, which also will star John Krasinski, but he wasn't there at the moment, much to Kara's chagrin.  But they did get to see Drew and Ted.  You can see Ted in the background over Kristina's shoulder, but you can't see Drew.  Watch for their movie sometime soon.  Alaska is home to wonderful seafood, and it seems at times, even Hollywood celebrities.