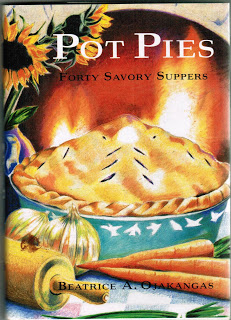 I love the recipes of Beatrice Ojakangas.  Not because she is a Finn and my husband is a Finn, but because her recipes are always so pleasing and comforting.  Pot Pies are the ultimate in comfort food.  Many times, savory pot pies can be made from what you have in your pantry and refrigerator for satisfying, quick meals.  My great-aunt Margery used to say that anything is good between a crust.  I have to agree with her.  I even put macaroni and cheese between a homemade cheese crust and won a trip to compete in a regional contest for Tillamook Cheese a few years ago. 
Probably every ethnic group that settled in our country had some version of a pot pie that they brought along from their homeland.  The common characteristic of a pot pie is a crust of some kind.  Crusts can be made like a pie crust, or instead can be phyllo dough, cornmeal topping, and even whipped potatoes can be a top crust.  The possibilities are endless, so use your imagination.  Beatrice has so many to offer in the book, from cheese, egg, and vegetable pies, to chicken, turkey, seafood, and meats.  My favorites in the book include a deep-dish spinach pie with feta and nutmeg, enveloped in a lemon pastry.  The Italian mushroom and artichoke pie uses wild mushrooms, frozen artichoke hearts, ricotta cheese, all in a phyllo crust.  Her deep-dish pizza is as good as any I have had here in Chicago.  With the Thanksgiving-in-a-pie you can use leftover turkey, stuffing, and cranberries!  One that I haven't tried yet is the seafood gumbo pie, with a buttermilk biscuit crust surrounding a traditional gumbo filling.  I can just smell it baking.
You will love this cookbook.  But there is one pot pie I would not recommend making.  Remember the king in the nursery rhyme with four and twenty blackbirds baked in a pie?  That's one pot pie I bet even my great-aunt Margery would not make!