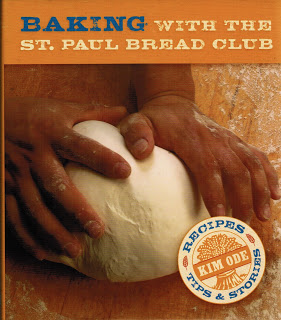 After I decided to give away bread cookbooks on my blog this week, I went to the area of my shelves housing bread books, of which there are many.  I do this every fall; searching for the next great bread recipe to bake.  Sometimes it will be a fruity coffeecake, other times a whole wheat loaf, and sometimes just loaves of big, fluffy, comforting white bread. 
This book was pushed back and hiding on the shelf, so it was fun to discover it again.  I fondly remembered when and where I bought it.  My daughter Kara was working on her master's thesis at NYU about the concept of Finnish "sisu."  For those who don't know what sisu is, it means having a steadfast attitude, along with courage, determination, perseverance, and backbone.  Immigrant Finns brought their sisu to America with them in order to thrive in the new land.  It is an inherent characteristic of the Finnish people.  Kara wanted to interview Finns in the Upper Peninsula of Michigan at
Finlandia University
in the town of Hancock.  While she was busy interviewing professors and residents, my other daughter, Kristina, and  I decided to do our favorite thing and find bookstores.   It turned out that the small campus bookstore was a gold mine for cookbook lovers like us.  We must have bought a dozen books that day, including this bread one. 
The St. Paul Bread Club is a group of men and women who have bonded over their passion of bread baking.  The meetings were held at a professional production bakery where members would roll up their sleeves, experiment with new recipes, and exchange tips for making perfect loaves of bread.  In the book you will find a flawless baguette, a grandmother's secret to the perfect strudel-like potica, and an anadama bread transformed into a peppery delight, swapping out molasses for chipotles, and butter for bacon fat.  The titles of the breads will make your mouth water – chipotle sourdough, breadcrumb muffins, ooey-gooey bread, Ristorante Luci's Italian herb bread, jalapeno breadsticks,  fig and lemon sourdough with thyme, carrot baguettes, and sugarplum bread.
There must be something magical about loaves of hot bread, since humans have been baking it for ten thousand years, and people still cannot resist the intoxicating aroma of a freshly baked loaf.  At the same time, baking bread has changed in some ways, such as bread machines.  Personally, I prefer to feel the soft dough in my hands and watch it transform, and even find it calming and therapeutic on hectic or challenging days.  Sometimes you just need to turn down the noise and commotion of the day.  A good session of kneading bread leaves you with only the dough and your thoughts to ponder.  It's not possible to text message while kneading.  So take a break and bake a loaf.  And turn off the cell phone while you're at it.  You will feel as alive as the dough in your hands.