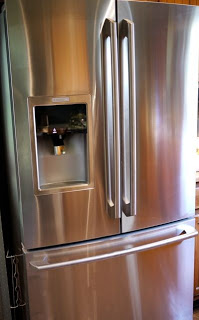 We feel like the luckiest family today, because
Abt Appliances
and
Electrolux
delivered our prize-winning appliances this past weekend!  Aren't they beautiful?!  In case you didn't read last week's blog, my husband Bill entered his first ever cooking contest and won all of these appliances- for cupcakes!  Or actually, it was for "Cubcakes" in honor of his beloved team. 
We are having the best time trying to figure out all the new gadgets, and how things start just by a wave and a touch.  I have only accidentally started the dishwasher about 3 times so far!  I still don't know all the microwave buttons yet, either.  I love having 5 burners on the stove, and oven racks that slide out so easily, I have to get used to not pulling them so hard.  And the French door refrigerator – sometimes I just go open it for no reason and stare!
Thank you Abt and Electrolux, for a really fun contest and a spectacular prize!  I just might need some advice on not starting my dishwasher accidentally; but I have really clean dishes!