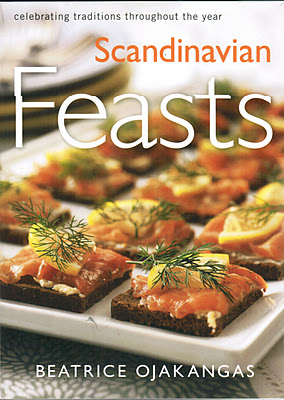 In the past, Scandinavian cooking has been unjustly neglected and I could never figure out why.  Many think the cuisine as bland or boring, which it is not.  In the last several years it is rising in the ranks with the popularity of local, sustainable, and fresh ingredients.  Well, guess what? That's what Scandinavian cooking has always been about – fresh fruits, especially berries (my favorite- lingonberries!); incredible breads, vegetables and salads, seafood, and soups, just to name a few, and the use of convenience food items is minimal.  One of the world's greatest restaurants (some believe it to be THE best), Noma, in Denmark, is of course all about Scandinavian cuisine. 
I have always been a huge fan of Beatrice Ojakangas, considered the queen of Scandinavian cooking.  She has written dozens of cookbooks on the subject, with this one celebrating the cooking of Finland, Sweden, Norway, and Denmark.  The delightful topics include a Finnish farmhouse breakfast, a Danish Confirmation feast, Norwegian midnight supper, a Christmas coffee table, Summertime salmon feast, a Swedish Saint Lucia Day candlelight brunch, and my favorite – snacks in a Finnish sauna! 
Of course, here is why I REALLY love Beatrice –  look at her "culinary cellar!"  Although my guess is, it's not in her basement like mine!  Sigh….