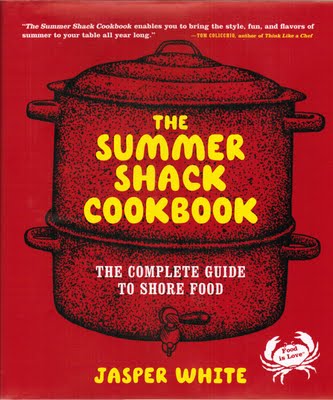 I have never been to the Jersey Shore, but after reading this cookbook, it will be a destination I will look forward to in the near future just to find a Summer Shack restaurant.  Author and chef Jasper White grew up on the Jersey Shore on a diet of steamers, blue crabs, sausage sandwiches, and boardwalk hot dogs.  With a diet like that, who would have guessed that he would end up at the Culinary Institute of America in Hyde Park, New York?  Not only that, the chef once owned and operated a very high-end dining establishment called "Jasper's" in Boston.  For weekend escapes from the restaurant, Jasper and his wife bought a little camp house in Maine, and ate most of their meals at places like roadside clam shacks, local diners, or waterfront lobster joints.  They felt comfortable at those places, with their foods of childhood.  Eventually, the desire to return to those beloved foods became the inspiration for Summer Shack restaurants. 
The food served at Summer Shacks is fresh seafood and other summer delights, focusing on serving groups of families and friends.  To the chef, food is love, which actually became a slogan that he trademarked.  To him, it is a simple message that says it all, starting with the love people like fisherman and farmers put into their work, so it will reach our tables.  He wants us to eat his food with passion and joy, which isn't hard to do with the great recipes in the cookbook.
Julia Child was a regular at Jasper's when it was open, but also at the Summer Shack in Cambridge.  I can certainly see why.  You can order classics like a lobster roll, clam chowder, beer-battered fish and chips, or a Jersey Shore Italian hot dog; but you will also find gourmet fare such as a conch salad Bahamian-style,  steamed black sea bass with ginger, pan-seared tuna with Japanese flavors,  or a grilled King mackerel with lime marinade and garlic butter.  (The remoulade is to die for!)
My youngest daughter will be moving to New York City soon, and I think I can probably talk her into taking a side trip with me to find a Summer Shack.  Any place that trademarked the phrase "Food is Love" is on my list.