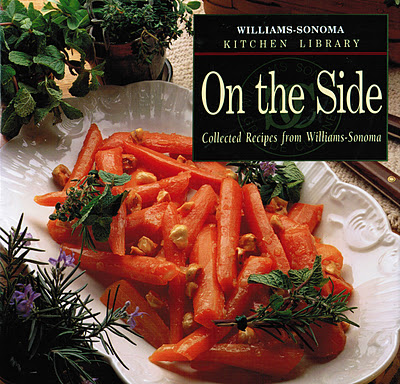 When it comes to Thanksgiving, side dishes are my favorite.  I like to make at least three or four, because I find them much more interesting than the turkey.  Sometimes after a good meal, the side dishes (okay, and sometimes desserts!) are the ones people remember most.   Maybe it's because side dishes are more colorful than a turkey, ham, or roast of some kind, and can take on all kinds of seasonings and cooking methods.  A side dish is what can add the most interest, color, and textures to any meal, not to mention how healthy they can be.  Think of the difference between boiling Brussels sprouts, and instead, roasting them in olive oil, sea salt, cracked pepper, and sprigs of fresh herbs; or instead of boring cooked carrots, stirring in some grated orange rind and fresh ginger.  Would you want boiled corn-on-the-cob or grilled corn with a chili-lime butter?  Side dishes can elevate any meal.
Williams-Sonoma cookbooks are always wonderful with great recipes, easy instructions, and beautiful photographs.  This one is filled with recipes by internationally known chefs who offer side dishes both classic and contemporary.  Most ingredients used in side dishes require minimal effort, but there are still some essential techniques which are all explained and with step-by-step photos. 
Some of my favorites in the book are polenta with pesto; corn with chiles and coconut milk;  carrot and blue cheese salad with cumin seeds;  asparagus with capers, pine nuts, and parmesan shavings;  sweet potato and ginger pudding;  fennel braised in milk; and a saffron rice that you can almost smell as you read the fragrant ingredients. 
This Thanksgiving, take a walk on the wild sides!