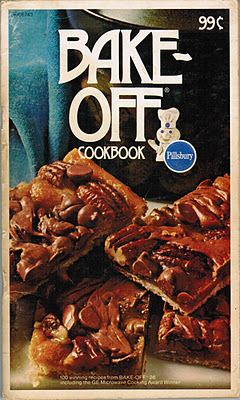 What better place to hold a Bake-Off than San Francisco!  How can you lose with a beautiful city on the bay, cable cars, and the Golden Gate Bridge?  The 1975 contest was held at the Hyatt Regency Hotel on the Embarcadero.  Contestants were treated to sight-seeing excursions on the bay and the incredible food of the city. 
San Francisco holds fond memories for the two grand prize winners, Barbara Gibson of Fort Wayne, Indiana, and Luella Maki of Ely, Minnesota.  Barbara won for her "Easy Crescent Danish Rolls," an easy version of the popular breakfast treat.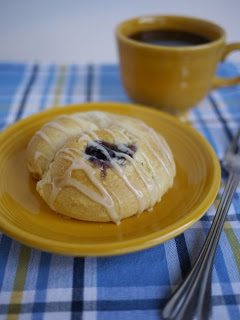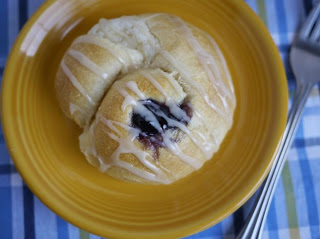 In addition to baking prize-winning dishes, Barbara also enjoyed sewing, reading, and bowling, and even dreamed to one day start her own catering business.  When asked what she would do with the prize money, Barbara replied that she would pay off the mortgage on her home, and then fly to Disney World for a "joyous holiday."  You can watch a how-to video of the Pillsbury test kitchens making Barbara's winning recipe: 
"The cinnamon and vanilla did it," said Luella Maki of her prize-winning "Sour Cream Apple Squares," which she revised seven times to finally achieve her desired result to enter the contest.  Twenty-two years earlier, she entered her "Finnish Tarts" and then tried for eleven consecutive years to make it to the Bake-Off floor again, saying "By that time, I became discouraged and thought that I had to have a pull to be a finalist."  Of  her recipe, Luella says "It will please many cooks because it is so plain and easy to  make.  Most people like apples."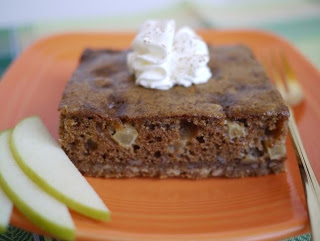 Luella not only had a food and nutrition degree, but taught Home Economic for thirteen years.  She also conducted adult evening food courses, and even wrote a booklet called "1500 Hints about Cooking," which sold over 5,000 copies.  Her husband Robert was always the recipient of Luella's cooking skills.  When a reporter called after the contest to get his reaction, he replied, "I'm the guinea pig.  All I do is eat, eat, eat!"  When asked what she would do with her prize money, Luella said, "I plan to use some of the money to fix up our tiny house." 
Two other participants of the contest have stories to tell about their experiences at this Bake-Off.  Ronna Farley was a young bride of twenty-two when she entered the contest.  Ronna kept a daily diary of her experiences, such as when the wife of host Bob Barker celebrated her birthday at the contest, and had a room full of contestants singing her happy birthday.  At another dinner, Lorne Greene of television's "Bonanza" was the guest speaker.  Ronna had a great time shopping at Fisherman's Wharf with fellow contestants, enjoyed the harbor cruise where she was able to see Alcatraz and the Golden Gate Bridge, and dined in Chinatown.  Ronna's recipe, "Ham and Cheese Crescent Squares, " later won an ultimate honor of having this recipe inducted into the Pillsbury Hall of Fame.  In 1999, years after this Bake-Off, Pillsbury selected twelve recipes to compete in magazines by the voting public for four positions in the Hall of Fame.  At that time, Ronna worked (and still works!)  for Giant Food, and says many of her customers voted for her.  Here is the photo from the Bake-Off book of Ronna's Hall of Fame winner:
Ronna sent me two photos from the Bake-Off.  One is the young bride at her range, ready to cook!  The other is from one of the Pillsbury dinners, complete with a Doughboy ice sculpture!  Thanks, Ronna – by the way, love those great '70's clothes!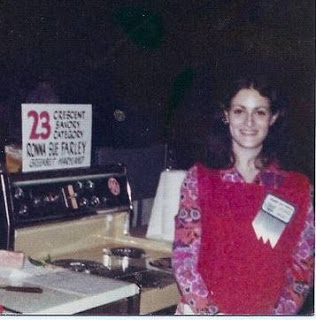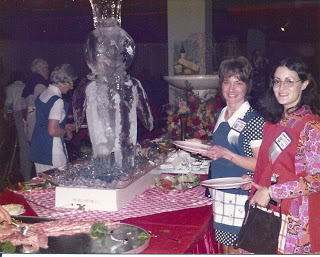 The next contestant to share her memories is my long time friend, Janice Elder.  Janice is a force to be reckoned with, as she has either won or been a competitor in every major contest for decades.  She was even on Oprah!  Janice sent me her thoughts on the contest.  Here are her own words:
"As a young bride in the early '70's, my culinary skill set was, shall we say, a bit lackluster.  This major handicap didn't dampen my enthusiasm for cooking, and I began sticking my toes into the waters of competitive cooking.  The really big kahuna was the Pillsbury Bake-Off.  While the grand prize was far less than today's million dollars, it was still significant and potentially life-changing.  I pulled out my mixing bowls and experimented with a variety of Pillsbury products, entering several recipes and hoping for the best, with the eternal optimism of youth as yet unbalanced by harsh reality.
What a joyful day it was when I got a call from Pillsbury notifying me that my "Peanut Butter Honey Bites" entry was a potential finalist and that paperwork would be arriving shortly.  Another incredible factor was that the event would be held in San Francisco.  Having never been to the west coast, let alone this glorious city of cable cars, bays, and famous bridges, I was delirious with joy at the prospect of not only competing, but visiting the destination of my dreams.  Off I went with my favorite traveling companion, husband Larry.  We were warmly greeted by Pillsbury and enjoyed meeting other contestants.  Our hotel was the gorgeous Hyatt at Embarcadero Center, which at the time was relatively new with an enclosed interior atrium filled with hanging plants overlooking a huge lobby, a rather novel concept at the time.  Soon I was whisked into a variety of informal meetings about the contest, as well as being entertained on a grand scale.  Larry and I remember in particular going with the Bake-Off contestant group to a very nice restaurant in Chinatown where we were served exotic offerings, among them Bird's Nest Soup (which was delicious!).  There were harbor cruises, delicious dinners, all leading up to the day of the actual Bake-Off.
Before going further, I must comment on my recipe, which had absolutely no baking involved.  The description Pillsbury attached to it read this way:  Mrs. Larry D. Elder from Spartanburg, South Carolina has entered this no-bake cookie which is simple enough for children to make."  It incorporated their Coconut Almond or Coconut Pecan dry frosting mix with wheat germ, peanut butter and honey, formed into small balls and rolled in flaked coconut.  That's it.  Needless to say, it had little chance of winning, but I had lots of time to scout the baking floor after putting it together twice, and few worries about it not working out!
Larry and I loved being a part of the Pillsbury Bake-Off, and both of us were fortunate enough to compete in other Bake-Off events, but I think none was as memorable as this very first time.  Wide-eyed with wonder at being included, it was one of the truly memorable experiences of my life.  I did indeed leave my heart, not only in San Francisco, but on the Bake-Off floor.  Every time I pick up a Pillsbury package, I smile a little as I recall the experiences – what a great ride!"
Thank you, Janice!  I know everyone will appreciate the words of a world-class pro!  We'll be hearing more from Janice and her husband Larry in future Bake-Off blogs.
When my friend and fellow Bake-Off enthusiast and contestant, Shirley DeSantis, saw that the 26th Bake-Off was coming up next on my blog, she asked me if I had met Tim Troendle from Kentucky.  I had not, but Shirley said he had many photos and stories of his experiences at the contests.  I promptly emailed him and just heard  back a couple days ago.  Tim competed in this Bake-Off for his "Ham and Chicken Crescent Sandwiches," and his sister, Denise Lanning was also a contestant.  He mentioned that one outstanding memory of this contest was staying at the Hyatt Regency Hotel, one of the first to be built with an atrium, and a few years later, was the site of a Mel Brooks movie, "High Anxiety."  Tim will be sharing his memories and photos with us for the two Bake-Off's.  Thanks, Tim!
P.S.  Seems everyone raved about the beauty of the Hyatt Hotel which I can attest to, because after my husband and I got married in California, we spent the first night of our honeymoon at that hotel before we left for Carmel, Monterey, and Lake Tahoe!
To read all my previous Bake-Off blogs: