Happy St. Patrick's Day!  The title is a toast that can be given before drinking an Irish coffee, which is happily consumed on the holiday.  St. Patrick's Day is widely celebrated in our country by Irish and non-Irish alike.  Many people, regardless of ethnic background, wear green-colored clothing and other items.  But did you know that the color originally associated with St. Patrick was blue and not green?  Over the years, the color green and its association with St. Patrick's Day grew.  The Chicago River is dyed green every year to honor the holiday, and has been doing so since 1962.  Last year, the White House dyed the water green in one of the fountains.  St. Patrick was said to have used the shamrock to explain the Holy Trinity to the pre-Christian Irish, and the wearing of shamrocks has become one of the most popular displays for St. Patrick's Day.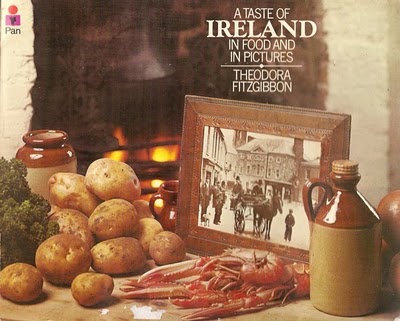 With the rich history and many traditions of Ireland, it is no wonder that there are numerous cookbooks of Irish cooking.  One of mine is called "A Taste of Ireland in Food and Pictures," by Theodora Fitzgibbon.  The cookbook is full of authentic Irish recipes, some going back to 1779.  You won't find any dyed-green cupcake recipes in this book, only the old-time, slow-cooked recipes, along with historic Irish photographs.  Many of the recipes in the book are from private family papers which have never been published before.  Even though the traditional Irish coffee is included, you will also find Lamb Ciste, Dublin Coddle, and Boxty-in-the-Pan.  Author Fitzgibbon gives the potato, in all its savory forms, an honored place in the recipes.  If you love authentic Irish food and history, you will love this cookbook.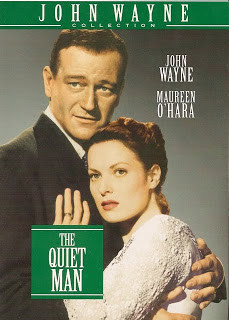 My tradition on St. Patrick's Day is to make the corned beef and cabbage I have been making for over 20 years, then sitting down to enjoy it with a viewing of "The Quiet Man," with John Wayne and Maureen O'Hara.  I love, love this movie!  The masterpiece was directed by John Ford, whose actual name was Sean O'Feeny!  I don't know why he changed his name, but his love for Ireland and its people was certainly obvious, as Ford won the Oscar for Best Director.  This romantic and enduring epic was the first American feature to be filmed in Ireland's picturesque countryside.  If you haven't seen it, you are in for a treat.  Is there anyone more beautiful than Maureen O'Hara? I don't think so.  One of my favorite scenes is when John Wayne bursts open through a door as the wild winds of Ireland are blowing, and Maureen O'Hara's flowing red hair just flies with the wind.  Ahhh…. I think I'll go dye my hair red.  In the meantime, here is my favorite recipe for corned beef and cabbage:
Corned Beef and Cabbage with Horseradish Sauce
4 or 5 pound lean corned beef brisket
Water
1 large onion, sliced
1 large carrot, peeled and sliced
1/2 teaspoon rosemary leaves
1 head cabbage (about 2 pounds) cut into quarters
Horseradish Sauce – recipe follows
cooked baby carrots
cooked small new potatoes
1.  In a 10-12 quart pan or Dutch oven, cover corned beef with water.  Boil for 5 minutes.  Discard water.  Add more water to cover beef, along with the onion, carrot, and rosemary.  Cover pan and simmer until meat is very tender, about 3-1/2 to 4 hours.  Lift out meat and keep warm on a platter. 
2.  Bring the stock in pan to boiling.  Add cabbage, and cook, uncovered, until tender-crisp when pierced; reserve 1-3/4 cups of the stock.  Lift out cabbage and arrange around meat.  (I also like to serve it with cooked baby carrots and small new potatoes).   Slice meat across the grain and serve with the horseradish sauce.
3.  For Horseradish Sauce:  In a 1or 2-quart pan, melt 3 Tablespoons butter over medium heat.  Add 3 Tablespoons all-purpose flour; stir until bubbly.  Add the 1-3/4 cups of the reserved corned beef stock, stirring until it boils.  Mix in 1-1/2 to 2 Tablespoons prepared horseradish to taste, 1/4 cup sour cream, and 1/2 cup chopped flat-leaf parsley; taste for salt and pepper.  Stir until hot.