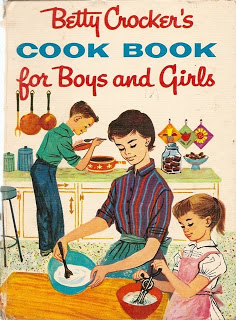 Cooking should be fun for kids.  Most parents will tell you that if you let children help out in the kitchen from a very young age, they are more willing to taste something new if they had a hand in the preparation process. It can even start with something simple like setting the table or pouring chocolate chips into the dough for cookies.  I found this to be true with my two daughters.  When my oldest, Kristina, was around two years old, I would give her a bowlful of flour, and she would sit and stir for a very long time without getting bored.  I would keep a special container of "play flour" just for her.  Pretty cheap toy when you think about it!  She didn't throw it around or even spill it.  Instead it seemed to have a calming affect on her and must have been a good influence on her life because now she writes a cooking blog called "The Daily Dish" on betterrecipes.com,  a site from Better Homes and Gardens.  Not only that, she has won many cooking contests over the years, starting with the Pillsbury Bake-Off at age twelve, where she won $2,000 for baking a cake (which went right into her college fund!)  She is also hired by major food companies to demonstrate their products and appears on television and internet cooking segments.  My youngest daughter, Kara, is a healthy cooking enthusiast.  She is a huge fan of organic and local foods, and since she lives in New York City, can find just about anything she could ever need in the way of food items or cooking utensils.  I am so grateful that they both learned the importance of learning to cook and to embrace and appreciate the diversity of cuisines throughout the world.
There are many cuisines with similarities around the globe from which children can learn.  For example, we all eat bread, but it also comes in the form of pita bread or tortillas.  Noodle dishes can be Italian pasta or soba noodles.  Children don't necessarily have to learn in their own kitchen; they can learn by going to ethnic restaurants, which are everywhere now, in just about every area of the country.  Learning cooking and other cuisines is a great way for children to connect to the traditions of other cultures.  A kitchen is actually a great learning tool to help develop a global palate, and you don't even have to leave your own kitchen to begin the process.  Have an "international night" every week.  Take the kids to the library, find a country of interest to study, then proceed to the cookbook section and find the cuisine of the chosen country.
The first cookbook I ever owned was "Betty Crocker's Cookbook for Boys and Girls," published in 1957.  It has easy to make items such as cinnamon muffins, applesauce, and butterscotch brownies, but also has Spanish rice, Swedish meatballs, and Mulligan stew.  Betty was ahead of her time in the ways of cooking for children!  Now there are numerous cookbooks available for children and teens.  Many culinary schools offer scholarships, and there are cooking competitions just for kids.  Indeed, it may still be a small, small world, but there are opportunities for the joy of cooking, even for tiny little palates.