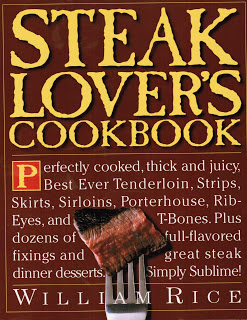 I am so glad to be feeling better after my bout with pneumonia last week, and am ready to have some food besides chicken soup!  In fact, I feel ready for a big, juicy steak, which is why I grabbed this book to write about on my first day back – and to make this book the giveaway for this week!
William Rice is an incredible food writer and cookbook author.  I think this is one of his best.  I love cookbooks that also include history, food tips, and other items of interest pertaining to the topic.  In this book, you can read about steak in history, proper equipment to use, what wine to serve with each cut of steak, and lists of famous steakhouses around the country.  Before each recipe there is an explanation about that particular cut of meat, and even stories about the recipe.
Every cut of meat is explained, along with how to buy and cook.  "Uptown Cuts" include tenderloin, T-Bone, Porterhouse, strip, rib, and rib-eye.  "Downtown Cuts" include chuck, round, eye, rump, flank, and skirt. There is a recipe for every occasion whether grilling at home on a weeknight, or hosting a fancy dinner party on a weekend.  You can try a grilled porterhouse with sherry-shallot vinaigrette; steak sandwiches with red pepper-dill ketchup; T-bones with tomato-green peppercorn butter; or rib-eye steak with tangy caper sauce.  I love the chapter of "Before the Steak," with appetizers like beer and cheese spread, eggplant and pesto dip, or one that I can't wait to try, mango guacamole. 
If you would like to win this great cookbook in my weekly random drawing, send
your name and email address
to 
[email protected]
  by 11:59 pm CST this Friday, June 10th and I will notify the winner over the weekend.  Good luck!!
Congratulations to Marnely R. of Florida who won last week's drawing for "The Greg Norman Wine Estates Cookbook."