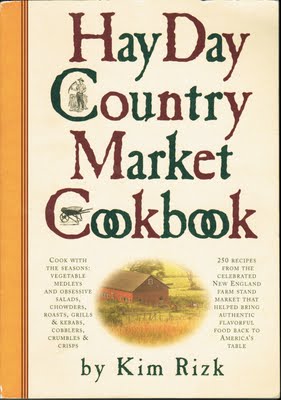 If it's June, then it's time for the Farmer's Market to open, at least in my town.  I wait in anticipation every year.  I have been missing the fresh croissants and baguettes baked by the local French nuns; the mushroom lady who comes in from Wisconsin; the cheese man; the toffee lady; the popcorn man; the flower lady; and even doggie snacks.  There are too many farmer's to list. 
This cookbook is about a country farm stand called "Hay Day" that first opened in 1978 in Westport, Connecticut, and grew to more than a dozen locations across the East Coast.  Since the book was published over ten years ago, maybe there are even more now.  The country farmer's stand grew to more than just a stand of produce.  The stand soon became a shop, offering homemade breads, cheeses, pastas, oils, grains, and many varieties of prepared foods.
The Hay Day stand was started by a couple who left the corporate world to open a vegetable stand, which many might think is crazy.  But as they say, timing is everything.  It was started in a time when home cooks were getting a little tired of cake mixes and soup mix dips, and now were in the world of Julia Child.  Just when they started selling local produce, the neighborhood was ready to buy and experiment  with the wonder of freshness.  The owners, Alex and Sallie Van Rensselaer, went even further.  Alex traveled all over Europe studying cheeses, while Sallie studied at La Varenne in Paris.  They returned home with new ideas and the little stand grew and grew.  A cooking school teaching fresh seasonal ingredients opened at Hay Day,  and a mail order business was started.  The cookbook is the recipes used for the products sold in the shops. It was not a little farm stand anymore, but the spirit of using fresh and local was still very much the same.
The recipes reflect the fresh-is-best philosophy.  Breakfast and brunch ideas include a plum breakfast cobbler; citrus-steamed pears with honey yogurt; tons of recipes for muffins and scones;  and fruity coffee cakes.  Vegetable and salad ideas are abundant with recipes like a grilled fennel salad; peppered peach and vidalia onion salad; and oven-roasted beets, red onions and oranges.  For a main dish try lemon-chevre chicken; Jamaican spiced snapper served with rum-glazed plantains; or a wild mushroom lasagne with spinach and goat cheese.  End a meal with a fresh apricot coulis or a mixed fruit summer pudding.  Browsing through the book is like a stroll through a Farmer's Market.  I am already placing post-it tabs all through the book.  Some of that basil-infused olive oil will be great on the nuns' baguettes.  Our market can't open soon enough.