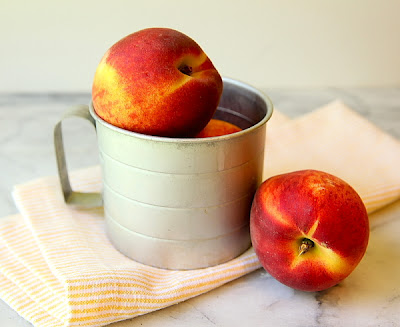 It's been a busy weekend!  My husband, Bill, daughter Kara and I, (Kristina is leaving for Finland and couldn't make it) drove up to the Upper Peninsula of Michigan and attended the annual blueberry festival and the "Art on the Rocks" festival in Marquette.  More on those later this week, plus what cookbooks I found!  You know I never go anywhere without buying a cookbook, right?
Last weekend, Kara's boyfriend who was born in Mississippi, came  here for a visit and I wanted to make him something Southern and settled on a peach cobbler.  He loved it, so I wanted to share the recipe with you.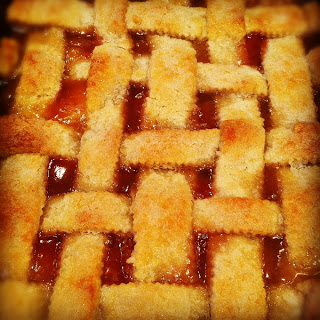 Lattice-Topped Peach Cobbler
Filling:
5 Tablespoons cornstarch
2 to 2-1/2 cups granulated sugar (depending on tartness of peaches)
8 cups sliced fresh peaches
1/2 teaspoon almond extract
1/4 cup butter, melted
Pastry:
1/2 cup solid vegetable shortening
2 cups all-purpose flour
2 Tablespoons granulated sugar
Pinch of salt
4 to 5 Tablespoons ice water
For brushing on top:
3 Tablespoons melted butter
2 Tablespoons granulated sugar
Heat oven to 400 degrees.  Butter a 9-by-13-inch pan; set aside.
To prepare filling:  Blend cornstarch and sugar together and toss with peaches, almond extract, and 1/4 cup melted butter; set aside.
For pastry: Cut shortening into flour until it is the consistency of cornmeal.  Add the 2 Tablespoons sugar and salt.  Gradually add the ice water until the dough holds its shape.  Roll out onto a floured board and cut into 5 (1-by-13-inch) strips, and 7 (1-by-9-inch) strips.
Pour filling into the prepared baking pan.  Crisscross dough strips over filling.  Brush dough with the 3 Tablespoons melted butter and sprinkle with the 2 Tablespoons sugar.  Bake for about 30-35 minutes or until the crust is crispy and golden brown.  Serves 10-12.  Offer freshly whipped cream or scoops of vanilla ice cream.