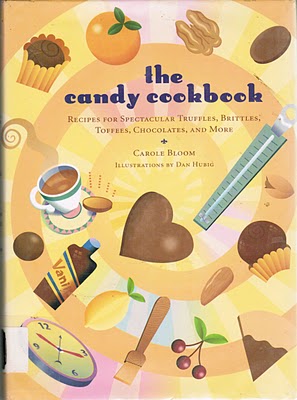 Shakespeare must have had a sweet tooth.  The old saying "Sweets to the Sweets" is from Hamlet.  Even way back in history, people loved sweets.  If you want to give some sweets to your sweets this holiday season, then this charming book is a must.  It's a candy-lover's dream come true.  The author says that candy is her passion, and it shows through with every recipe. 
The book starts out with truffles.  Amazing truffles.  Black Forest, white chocolate citrus, cinnamon, tangerine, and ginger chocolate,  for starts.  The chapters continue with marzipan;  brittles like pine nut and hazelnut; toffees, caramels, fudges such as gingerbread and mocha-spice, and everything chocolate.  If you are a beginning candy-maker, the chapter on tools of the trade will be invaluable.  It will be explained about the use of thermometers, double-boilers, what spatulas to use, pastry brushes and bags, pans, marble slabs, and rolling pins.  You will be an expert before you know it.
Have a sweet-filled holiday!!