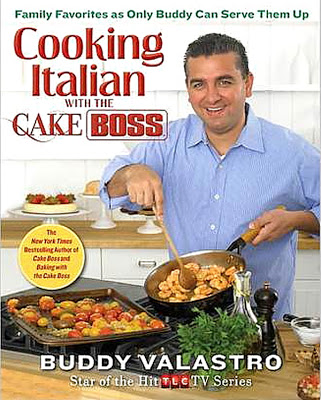 We are fortunate in our area of Chicagoland to have incredible libraries.  One of them, the Cook Library District from my hometown has had a series of chefs and their cookbooks, the latest being Buddy Valastro of the immensely popular "Cake Boss" television show.  I knew this show was popular, but I didn't know Buddy was a rock star.  The room was filled to capacity with both children and adults eagerly awaiting his arrival.  Okay, now it's confession time.  I have never watched Cake Boss.  Not that I don't like cake, because I do, and not that I don't love cooking shows, which I also do, but I could never make the cakes on the level of cake boss, so I suppose that's why I have never turned it on.  But…  when I heard the boss had written a cookbook about his Italian heritage and dishes from his family recipe cards, he got my attention. 
Having returned this fall from a food and wine tour of Southern Italy and Sicily, Italian food has been constantly on my mind and in my heart.  I fell in love with Italy and especially their passion for the food and wine of their beautiful country.  I was hoping to hear this passion from Buddy and he didn't disappoint me.  Everything he said reminded of what I found to be true in Italy, like how nothing brings families together as food does; how it connects generation to generation with the recipes that keep our memories of our relatives alive in our own kitchens.  There is never a time that I don't pull out a recipe card of my grandma's, or her sister, my great aunt, that I don't love and appreciate their recipes and how much they enjoyed making dishes for us.  I treasure each splattered recipe card, and each and every dish they used, or the wooden spoon they stirred with every day.  Food is so important to all cultures and just inhaling something like the aroma of a soup simmering triggers memories like nothing else.  I hope for my girls when they marry, that they will experience what Buddy said about what initially drew him to his wife – that they had this shared value with a mutual understanding of, and appreciation for, the foundation that is created by spending time around a dinner table with family.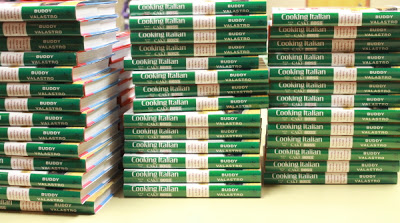 The books were piled up and ready to be sold and autographed by Buddy.  At the beginning of the program, Buddy explained how he took over the family bakery at age seventeen after the tragic death of his father.  He was responsible for over 40 employees at this young age in a small Hoboken bakery.  Now he employs over 200 in a 50,000 square foot bakery.  And good news for those of us in and around Chicago – he is thinking about opening a bakery here!  For now, it is possible to buy his cakes in certain grocery stores.  If you go to
www.cakebosscakes.com
 and type in your zip code, you can see if they are sold in your town.  I found that there are cakes sold just a few miles from me. 
There were many questions from the audience including what is his favorite cake.  Answer- vanilla cake with fresh raspberries, chocolate ganache, and a whipped cream frosting.  The most expensive cake he made was a $30,000 cake for something happening in Las Vegas, complete with moving parts and pyrotechnics.  His favorites have been the Transformer and Nascar cakes.  Sometime during the program, Buddy's cell phone rang, and to the delight of the audience, the ring tone was the music of Clint Eastwood's spaghetti westerns!  Just when I was about to ask the question, someone else asked what his favorite recipe was from the book.  He said there were too many that he loved, but he couldn't imagine not having his family recipe for "Sunday Gravy," a tomato sauce for pasta.  When he asked his wife what she wanted to make first from the book, it was the fresh mozzarella-and-sausage stuffed chicken breasts. (It sounds heavenly – I'm making it!) 
I have a feeling I will be trying many of the recipes from this book, as most are Southern Italian dishes that I loved in Italy, such as risottos, breads, fish, pastas, and anything with olives, fresh rosemary, and tomatoes.  It's not that the dishes just sound good, but you can feel the passion and love put into the recipes.  Reading them transformed me a little bit back to Italy.  Thanks, Buddy.  I'm sure your cakes are wonderful, but you grabbed my heart with your family recipes.