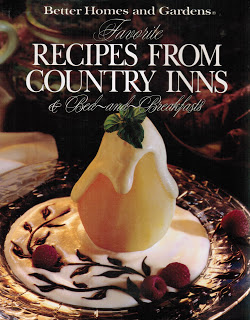 Sometimes a hotel just doesn't cut it.  They can be too big, too noisy, bad location, or bad food.  A quaint and picturesque Country Inn or even a grand Victorian mansion turned into a Bed and Breakfast is another choice when traveling this summer.  Bed and Breakfasts sometimes only offer breakfast, but some will also have light meals or snacks later in the day.  An Inn can have a full-service restaurant.  There are thousands to choose from all over the country.  Or you can at least experience the elegant food of an Inn from recipes in this delightful cookbook from Better Homes and Gardens, published in 1991.  There are recipes from 54 popular locations, along with charming sketches of the Inns or Bed and Breakfasts.  You will find a four-course gourmet breakfast from an Inn in Maine; a western-style barbecue dinner from a ranch in Idaho; and a Pacific coast salmon dinner from an Inn-by-the-sea in California.  There is even an index in the back of the book where you will find the names of each inn and its innkeepers.  It is both an exceptional cookbook and a delightful mini-guidebook. 
As I was reading the cookbook, I came across a familiar favorite place called Madrona Manor in Sonoma County, California.  This incredible three-story mansion is situated on top of a hill overlooking the wine-growing region of Sonoma County.  Guests are treated to the elegance and fine dining of European-style Inns.  The Victorian parlor-like dining room is breathtaking.  My husband Bill and I stayed at this lovely Inn in 1986.  I won a weekend stay there by winning an Uncle Ben's Rice recipe contest.  Uncle Ben's had a line of packaged rices called Country Inn, and for the contest, you had to enter a recipe using the rice.  Since many Inns offer elegant dining, I decided to take packaged rice and make an updated and easy version of a classic French recipe.  I called it Chicken and Rice L'Orange.  The recipe can be found after the blog.  We had the most wonderful weekend, but that was not hard to do in such an amazing place.  Madrona Manor was a private residence until 1981.   Less than a year after we were there, it was placed on the National Register of Historic Places.  I can't say enough about Madrona Manor.  It is definitely a world class country Inn and restaurant.  Below are some of the photos I took of our stay.  If you ever are in the wine country of Napa and Sonoma, you must look into staying here.  You will not be disappointed!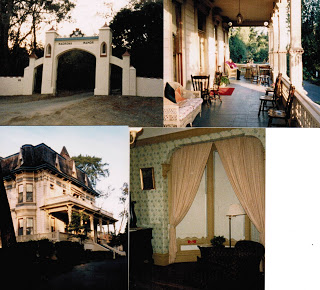 Here is the winning recipe that allowed us to experience this breathtaking Inn.
Chicken and Rice L'Orange
1 cup water
2/3 cup orange juice
4 Tablespoons butter, divided
1 package Uncle Ben's Country Inn vegetable rice medley with chicken flavor*
4 boneless, skinless chicken breast halves
1/4 cup sliced almonds
1/4 cup orange marmalade
1/3 cup golden raisins
1 Tablespoon grated orange rind
1/4 cup thinly sliced green onion
Orange wedges for garnish
1.  Combine water, orange juice, 1 Tablespoon of the butter and contents of rice packets in a medium saucepan.  Bring to a boil.  Cover and simmer for 20-25 minutes or until all liquid is absorbed. 
2.  While rice is cooking, pound chicken to 1/4-inch thickness; set aside. 
3.  Saute almonds in 1 Tablespoon of butter in a skillet over medium-low heat until almonds are golden and toasted, about 2 minutes, stirring constantly.  Remove almonds from skillet and reserve.
4.  Add remaining 2 Tablespoons butter to skillet.  Add chicken and cook over medium heat for 5 minutes.  Turn and continue cooking another 4-5 minutes or until chicken is cooked through.  Add marmalade to pan and stir to melt and coat chicken; keep warm.
5.  Stir raisins and orange rind into cooked rice.  Arrange rice on a serving platter; top with glazed chicken breasts.  Sprinkle with reserved almonds and the green onion.  Garnish with orange wedges and serve.  Serves 4.
*Note:  Even though this rice is no longer available, Uncle Ben's has many similar rices that would work just as well.  Find a chicken-flavored one with vegetables, and I'm sure it would be fine.