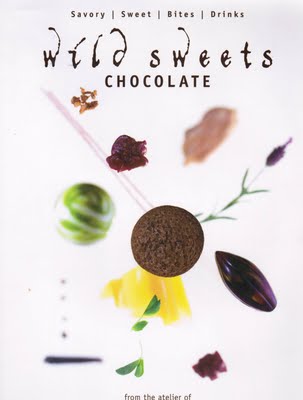 This is another one of my coffee table-sized books that won't fit on my scanner.  But I still love the over-sized books because they have huge photos which are works of art as much as the food, and are even suitable for framing.  In the introduction written by renowned chef Charlie Trotter, he states that husband and wife authors, Dominique and Cindy Duby, have created recipes that are "fluid and provocative," and "simply stupendous."  This book will keep you mesmerized for hours.  If you are looking for a good chocolate cake recipe or chocolate chip cookies, then this is not the book for you.  But if you want dishes that look like the competition on "Top Chef" (or what they wish they could create!) or something from an award-winning restaurant, then you definitely want this fabulous book.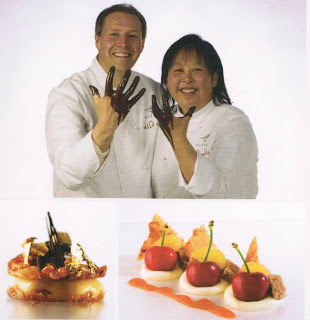 The book is equal parts a feast for the eyes and a delight to the senses.  The adventurous chefs have a passion for melding art and science in the kitchen, turning culinary conventions inside out.  The recipes fuse unlikely flavors into unforgettable dishes.  Included are step-by-step instructions for you to create these masterpieces at home.  Above on the left is a saffron milk chocolate mousseline with a caramelized puffed rice tuile.  On the right is a white chocolate mousse with a cherry biscuit and lemon confit.  Below is almond meringue with chocolate lavender cream and a chocolate-apricot emulsion.  They all may look and sound very complicated, but you will be surprised that these are not impossible to create given the well-written and easy-to-follow instructions.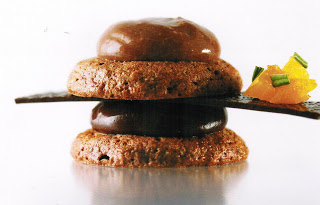 The recipes are unique in that chocolate is used is every one of them, including savory dishes such as duck with a spiced almond crumb, stewed cherries, and a chocolate port reduction; or lamb with a chocolate-merlot blueberry jam, apple pasta, cumin yogurt cheese, and pancetta shards. 
Be bold and adventurous!  Take a chance and try some of the recipes.  One of the Duby's mottos sums it up best:  "A chef who stops learning is a retired chef."