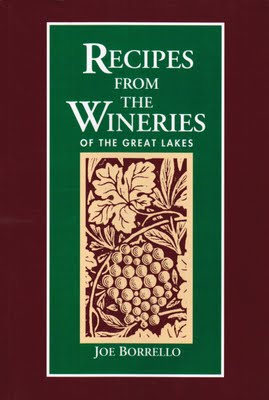 Napa and Sonoma are among the first places that come to mind when visiting wineries in our country.  The Great Lakes is not exactly the first place one would think of for great wine, but think again!   There are dozens of wineries in Wisconsin, Michigan, Indiana, Ohio, Pennsylvania, New York, and Ontario that have produced award-winning wines.  
Agriculture has always played a major role in the development of the Great Lakes region.  The abundance of water and fertile soil attracted European settlers looking for opportunities to develop farms and orchards.  Italian immigrants brought with them a passion for the grapevine. The early farmers transplanted from Europe were aware of the importance of wine in their diets.  They knew how wine blended with food and decided to try growing grapes for wine and juice.  The winery families of the Great Lakes are first and foremost agricultural people living off their land.  Like other farm products, they consider grapes and wine a food and use it accordingly in their kitchens.  Over the years, many wonderful recipes have been developed by the Great Lakes wineries and it only seemed natural that a cookbook be developed.  The cookbook lists information about dozens of wineries and what they have developed in the way of recipes and products. 
The book contains recipes that have been gathered from over fifty wineries in the Great Lakes region.  The recipes incorporate the ethnic foods of families along with unique products of the Midwest.  Most of the recipes utilize the bountiful agriculture of the area along with the use of wine to present a unique brand of cuisine.  For example, a cherry nut bread from Wisconsin using sweet cherry wine; a morel frittata from Michigan using dry white wine; a hot cranberry-melba cabernet from Ontario; a wine and wild rice bake from Wisconsin; Dutch apple pork chops made with apple wine from Pennsylvania; or Michigan trout poached in dry white wine.  You will find recipes for appetizers, beverages, desserts, dips, sauces, fish, meats, pasta, soups, salads, and more.  The cookbook is perfect for the wine and cooking enthusiast at any level, and a unique addition to any wine lover's kitchen.  
"God loves fermentation just as dearly as he loves vegetation."
Ralph Waldo Emerson