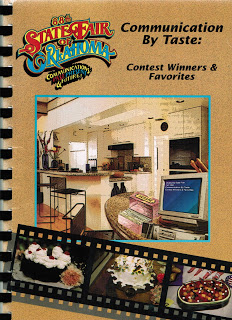 I used to live in Oklahoma, so that's why I had to spell it out like the song!  I loved my time spent in Oklahoma City, but must admit that I don't ever miss the heat, tornados, and weird bugs.  But I do miss my old friends, and my brother and his wife, who still live there.  I went to the Oklahoma State Fair many times when I was in junior high and high school, which is probably why my sister-in-law, Ellen, sent me this 1994 cookbook for Christmas.  Since most state fairs are held in the summer months, I thought I would write about a couple of them, starting with Oklahoma, and Iowa to follow later.
This cookbook is filled with state fair cooking contest recipes from the blue ribbon winners, along with state fair staff, superintendents, and friends of the fair.  Breads always draw dozens of entries from contest competitors.  Who will make the best cinnamon rolls, coffeecakes, and yeast breads?  Will "Pineapple Lattice Coffee Cake" beat "Granny's Sunburst Coffee Cake?"  Which Grandma will win for the cake division- Grandma Brown for her "Applesauce Cake," or Grandma Zora for her "Pumpkin Cake?"  And the pies!  Don't even get me started on those.  If you have ever been to a state fair, then you know all about the competitive cooking involved.  Most state fairs have people who have been entering their best baking and cooking for years.  I love state fair cookbooks, because the recipes are always winners.
Back in my junior high and high school days, I remember going to look at all the wonderful food entries. Since I was usually with a group of friends, or sometimes with just a boyfriend, I wasn't thinking as much about the food as I was them.  I went many times with my friend, Missie.  We loved going to the stage area where the bands played.  Now these were not just any bands, they were bands like Paul Revere and the Raiders, The Supremes, Lovin' Spoonful, the Shangri-La's, or Mitch Ryder and the Detroit Wheels.  Ahhh, now those were the days.  However, I came across a disturbing bit of medical news recently in the Chicago Tribune about how loud music can permanently damage ones' hearing.  Think about this:  a typical conversation occurs at 60 decibels, which is harmless.  Listening to music on headphones at 100 decibels can cause damage after 15 minutes per day.  A loud rock concert, or in this case, bands at state fairs, decibels climb to 115, at least.  It's any wonder I can hear at all now, because Missie and I liked to get close enough to where we could almost touch the band.  (Oh, but that Paul Revere was SO cute!)
Another fun thing to do with a boyfriend at the state fair, was to have him win you a large teddy bear, or other cute animal.  One time, Missie and I went with our boyfriends.  Mine happened to win me a large, very cute blue teddy bear.  Of course I wanted to name him after my boyfriend, but he wanted no part of that, so I said – how about if I give him your middle name.  Ok, that was fine; his name would be Richard.  But Missie decided that wasn't enough of a name.  In our English class that year, we were reading "Ivanhoe" by Sir Walter Scott, about King Richard the Lionhearted, also called Richard Coeur de Lion.  Missie decided my teddy bear should be named Richard Coeur de Bear.  And so he was.  I loved that bear for many years, and don't really remember what happened to him.  He probably got lost when we moved.  I hope all the young girls attending the Oklahoma State Fair this year will have someone win them a cute stuffed animal, but they must promise to wear earplugs when listening to the bands.  And remember, the name Richard Coeur de Bear is taken.