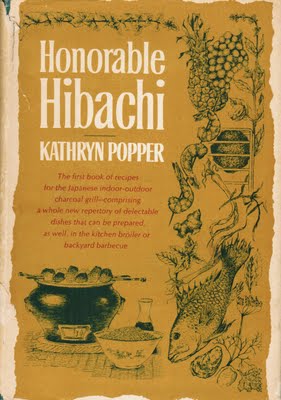 Does anyone cook on hibachi's anymore?  There may even be some of you who don't even know what a hibachi is!  Hibachi in Japanese means "fire basin."  Traditionally, it was a heating device and not usually used for cooking. The hibachi was once a common sight in Japan before World War II and often seen in waiting rooms at train stations to keep people warm.  During the war, it was used as a cigarette lighter and portable stove for Japanese troops.  We know hibachi's in this country as cast iron portable barbecue grilling devices.  "Hibachi style" is often confused with Japanese "teppanyaki" cooking, where the large gas-heated devices are integrated into tables around which many people can sit and eat at once while watching the chef perform the cooking with theatrical flair.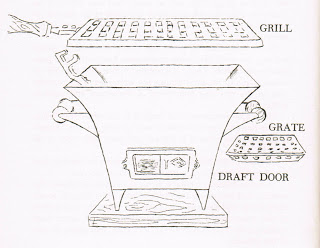 This is a typical cast iron portable hibachi.  They are still made, but many are not of the same quality as they used to be.  I wish I had my hibachi that I received back in the '70's as a wedding gift, as they were very popular at that time.  Since I got married in California and moved to Chicago, the hibachi was way too heavy to bring along.  It must have weighed at least 30 pounds and shipping  would have been too expensive. I think I left it for my mom or one of my brothers, but it would be great to have now for my husband to use for camping.  The hibachi gets very hot and  makes the most beautiful sear on meats.  You can buy little light weight grills now, which are cheaper and easier to transport, but there was nothing like the foods that came off the little hibachi.  There is just something about good quality cast iron.  Many cooks will tell you that the best fried chicken is cooked in cast iron skillets.  Same with the little hibachi for barbecuing.  Due to it's small size, it's not meant to cook for huge crowds.  At a small gathering of friends or family, the hibachi can be used for the appetizers and main dish, then put a pot of coffee on or roast some chestnuts for later. 
This old book from 1965 is a real gem.  There are incredible recipes for kebabs of every kind from appetizers to dessert; there are steaks, chicken, lamb, and seafood dishes with marinades and serving sauces to make your mouth water just reading the lists of ingredients.  My husband was at the grocery store yesterday and saw some mackerel that looked good, so tonight we are using a recipe from the book for a Spanish-inspired recipe.  The fish is sprinkled with salt, then a sauce of butter, lemon juice, brown mustard, horseradish, and a little brown sugar is brushed over the fish and grilled.  Additional butter is melted then combined with green olives and spooned over the hot fish.  I can't wait to taste it.  However, since our hibachi wedding gift is long gone, we will have to use our kettle charcoal grill.  If you are lucky enough to have an old cast iron hibachi, enjoy it over this 4th of July weekend.  Take it on a picnic, to the beach or a campground, or just in your own backyard.  I will have to ask my mom what happened to our old wedding gift.  If I am lucky, it is stuck in a box in the garage somewhere.  And this time, I would ship it home.