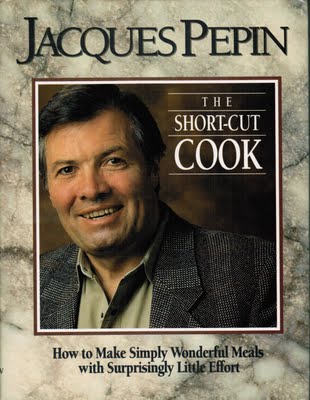 I never grow tired of watching Jacques Pepin, especially his shows with Julia Child.  Thank goodness PBS stations still run them.  The two were such a joy to watch together not only because they were good friends, but they were almost giddy with excitement to be cooking together.  There are people who enjoy cooking,  and there are others who embrace it as part of their being.  Jacques Pepin always exhibits his passion for cooking and how he wants you to feel it, too.  I picture him being an endlessly patient teacher with anyone who wants to learn the rewards of making beautiful meals.
This book does not have any fussy food from a French chef, but instead dishes that allow minimum preparation and easy clean-up.  There are also recipes that have "two lives," like a red pepper dip used as an hors d'oeuvre and then turned into a sauce for rigatoni.  Leftovers can be transformed into new dishes, such as a lentil and sausage stew that becomes cream of lentil soup with a little help from a food processor and some chicken broth.  There are tips on stocking your pantry, selecting the best equipment, and tips and techniques to improve and simplify your favorite dishes. 
Chef Pepin says items such as prepared jams, condiments, basic doughs, and yogurt are there to be used for the home cook.  Making use of reliable brands of pre-made foods helps the resourceful cook create her own dishes.  To quote Montaigne, a sixteenth century French writer, "The bees go from flower to flower to gather the pollen, but with it they create their own honey."  The chef proposes the same course of action – select superior items at the market and use them in ways that make them your own. 
The book is dedicated to Chef Pepin's daughter, Claudine.  He says, "May these recipes make your life easier and your love for cooking even greater."  Spoken like a true dad –  and amazing chef.