My Bert Greene obsession continues.  If  you read one of my earlier blogs about Bert, you know I adore him and his recipes.  His first cookbook from 1974 is "The Store Cookbook," written with Denis Vaughn.  The cookbook began as cocktail small talk on a summer afternoon in Long Island. Wouldn't it be great to stay here all year round, someone said.  Doing what? asked another. The conversation went on to suggest things like an antique store, a cheese shop, or a restaurant.  Then someone said, just a place to buy whatever Bert and Denis are cooking that day.  And so it began; The Store became an instant success.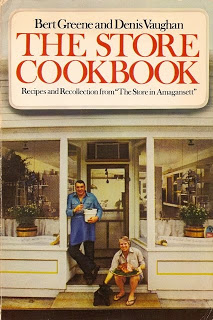 On a sunny July Fourth weekend, the door opened.  Instantly, the salads, hams, and roasts disappeared.  Mousse, cake, and brownies vanished.  Its fame grew year by year, and soon it was an institution, frequented by the rich and famous.  Those who graced the establishment and devoured the food included Barbra Streisand, Dick Cavett, Princess Lee Radziwill, Truman Capote, Andy Warhol, Tennessee Williams, Edward Albee, and Dustin Hoffman, to name a few.  A writer from McCall's magazine stated that " Each dish is so lovingly prepared that the shock of paying the bill is painlessly absorbed by the sheer euphoria induced by eating this elegant food." 
One chapter is titled "The Mousse Trap" as every kind of mousse was offered, including lemon, chocolate, apricot, strawberry, raspberry, blackberry, plum, peach, and fig.  And, mind you, the mousse was not made in a food processor or mixer – Bert whipped cream and egg whites by hand!  Bert believed in everything fresh, especially from the garden; in fact, he says it occurred to him that this collection of recipes might reasonably be subtitled "any and everything from the garden."  He went on to say that a great, dead chef once pronounced that the ultimate test of any cookery was the immediacy of the ingredients involved.  Bert adds that great cooking certainly takes place where "the pickings are good!" 
In this one book, you can make these and many other great dishes, and at the same time learn about Truman Capote's intimate parties along with Bert's grandmother's amazing recipes.  This cookbook is a banquet in itself.  Of course that's because it has Bert's name on it.