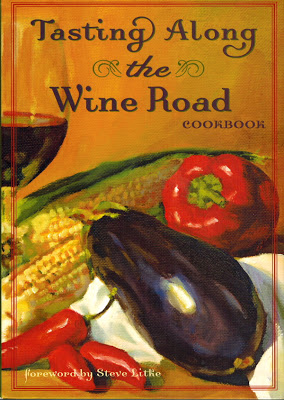 The last time I visited my mom in California, I found this book at a little thrift store in her hometown.  "The Wine Road" refers to an association of wineries and lodgings in the Alexander, Dry Creek, and Russian River Valleys located in Northwest Sonoma County.  The wineries vary from large producers to small estates; from Italian-style villas and French-style chateaux to small garagiste wineries (a French term for those who make their own wine in the garage).  As wine lovers know, Sonoma County is one of the most picturesque grape-growing regions in California, and the Wine Road organization wanted to introduce the public to this beautiful area, and to the wineries.  The "Wine and Food Affair" began in the late '90's and is now a yearly event.  After the success of the first event, it was decided to offer a cookbook of the recipes that were handed out at each winery.  People started asking for more recipes that paired food and wine and now a new cookbook is written every year.  This first cookbook I found happened to be Volume 9, which of course meant I had to find all the rest, especially after reading the recipes such as Bananas Foster Pancakes;  Duck and Wild Mushroom Pizza;  Pinot Brownies; and Lamb Sausages with Lentils and Pinot Noir Mustard.  I believe the book count is now up to at least Volume 14, and with recipes such as these, I knew I had to find more.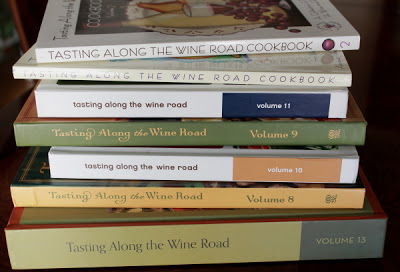 Here are the ones I have found so far.  I still need to find Volumes 3, 4, 5, 6, 7, 12, and 14, but for now, these will keep me very busy.  There are two recipes in Volume 2 that I am making sometime soon – the cinnamon breakfast risotto, and an appetizer of tuna tartare with wasabi toasts.  Volume 11 has a smoked salmon panini with gruyere and a lime cream dipping sauce.  Volume 10 has an unusual oatmeal souffle for breakfast.  As you can see, Volume 13 at the bottom is much larger than Volume 1 at the top.  They just keep getting better and better. 
I am leaving once again this week to visit my mom and you can bet I will be searching for the volumes I am missing.  In the meantime, should I make the breakfast risotto or the oatmeal souffle this morning?  Decisions, decisions.