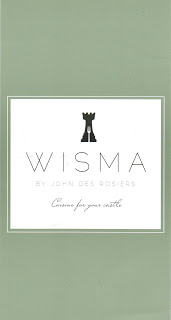 My hometown of Libertyville, Illinois has a charming, yet dynamic little downtown.  It looks like a movie set of a quaint all-American Midwest town, with an old mansion in the town square, a gazebo, summer carnivals and parades, and wonderful shopping up and down the main drag.  We are becoming known around the Chicago area as a great foodie town with amazing restaurants and kitchen stores. 
Our newest addition is Wisma, the funny name with great food and atmosphere.  Wisma means "home," and the food tastes like it came from your own kitchen.  It recently opened, so my daughters Kristina and Kara came with me to check out the buzz.  As soon as you walk in, you feel at home.  It's comfortable, cozy, and welcoming.  We were pleasantly surprised to see, Bob, a high school friend of Kara's sitting at one of the tables, and happy to learn that he is part owner.  Bob told us all about Wisma's philosophy of local, organic, and sustainable cuisine.  Wisma is not a sit-down restaurant where you order; instead you browse the shelves and refrigerated cases filled with delectable offerings, which change with the seasons.  After you select from the many choices, you can either sit down at one of the cute tables and dine in-house or take it home for lunch or dinner.  The girls and I wanted to stay and enjoy the atmosphere and talk more with Bob.  We wished that chef John Des Rosiers had been there, but maybe we will catch him next time.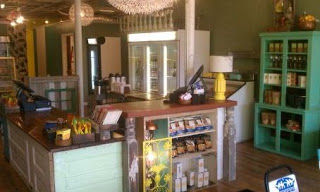 First of all, I have to tell you that my heart jumped for joy when I found one of my food obsessions,  Point Reyes Blue Cheese, in the cheese case!  Not only that, they also carry Laura Chenel's goat cheese, also from Marin County, California, where I used to live.  Okay, I was sold immediately.  If a small Illinois town carries Point Reyes Blue, I am there.  Thanks, Wisma!  My choice for lunch was already made – a roast Dietzler beef sandwich with baby greens, walnuts – and a blue cheese sauce.  Fabulous.  Kristina had the local flour tortilla quesadillas with grilled chicken and chili pepper sauce.  Kara decided on the orecchiette with black pepper, garlic, goat cheese, roasted tomato, and red wine.  We also decided to take home something for dinner and settled on the mushroom bisque, Amish chicken soup, a loaf of french bread, tres leches cake, and of course, a big chunk of Point Reyes Blue, all which were amazing. 
If you are ever in my sweet little town, check out Wisma, or you can read more on their website,
http://www.wisma.us/
   Just don't take all the blue cheese.