This week, instead of giving away cookbooks in my random drawings just on Monday, I am going to give away a cookbook every day this week!!  So here's what to do – each morning I will post what the book giveaway is for the day, and enter by 11:59 pm CST of that same day.  Enter every day if you like!  I will notify the winner the next day.  Just remember to email me at [email protected] with your name and email address so I can get back to the winner right away. 
Monday's Giveaway!!   Here is the first giveaway for the week: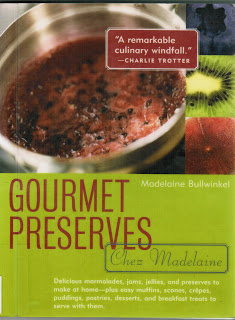 Madelaine Bullwinkel is renowned for her preserves and teaches cooking at her school, Chez Madelaine.  Chefs Charlie Trotter and Gale Gand say she is the best!  The book is packed with more than 110 incredible recipes like lemon-lime marmalade with cinnamon; nectarine jam with pineapple; grape jelly with fresh thyme; and kiwi-mint jam.  Not only that, she includes ways of using the preserves in breads, muffins, and desserts.  This book is a must for all you preservers out there!
To enter Monday's drawing, send me your name and email address to [email protected]  by 11:59 pm CST tonight!   I will notify the winner tomorrow. Good luck!!
Come back tomorrow for the chance to win another fabulous book!
And congratulations to Debbie R. from Florida, and Mary B. from Michigan who both won a copy of Justin Wilson's book, Gourmet and Gourmand, in last week's drawing.  I happened to find another copy of the book, so I was able to draw names for two winners!