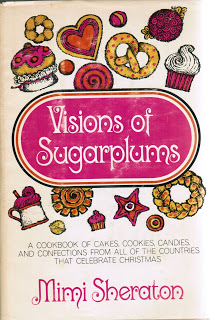 Even the title of this classic cookbook makes me happy.  It takes me back to the dozens and dozens of times I would sit on my grandmother's lap and she would read me "T'was the Night Before Christmas"  with the passage, "The children were nestled all snug in their beds, while visions of sugarplums danced in their heads."  I think it was the first poem I completely memorized at an early age.  The magic of Christmas cooking lives on in this charming cookbook.
The book contains all of the well-known traditional Christmas foods such as gingerbread, fruitcakes, plum pudding, and cookies, but also many from other countries like Lebanese crullers, Danish Advent pretzels, Sicilian Marsala fig cake, Dutch raisin bread with almond paste filling, Armenian golden wheat and apricot pilaf, and the Golden Bread of Verona.  There is also brief introductory material that reveals all the historical aspects and development of these recipes, with such interesting facts of how flaming punches date back to Nordic Yule ceremonies, or how plum pudding was first made by Druid priests.
I can promise you that this book will become a favorite in your cookbook collection.  It is one of my most treasured cookbooks.  To enter the random drawing to win this classic book, email me by midnight CST on December 17th, with your name and email address to [email protected] or [email protected]  and I will email you if your name is drawn.  Good luck!  I am already excited for the person who wins this!
Congratulations to Anne F. of Illinois,  last week's winner of the cooking for crowds and buffet cookbooks!