If you google this 1980 grand-prize winning "Italian Zucchini Crescent Pie," the pages are endless.  This was a very, very popular recipe, as it still is to this day.  Winner Millicent Caplan of Tamarac, Florida, didn't have too far to travel as the contest was held in her home state at the Fontainebleau Hilton in Miami Beach.  She had much to be proud of, including her recipe also being selected for the Pillsbury Hall of Fame award. 
This easy and delicious main dish pie has a crescent roll crust that is spread with mustard before filling with a mixture of zucchini, onions, eggs, cheese, and numerous spices.  It's simply wonderful. 
This Bake-Off book is one of my all-time favorites.  There are many "from-scratch" recipes, especially for yeast breads.  If you are a bread baker, there are many wonderful recipes you would probably enjoy.  Many of the recipes are longer and have more ingredients, but that's probably what I love about them.  There are numerous ethnic and comfort food-type recipes. 
Here is a fun fact about one of the contestants, Gloria Ward of Mankato, Minnesota.  Gloria was spending the winter in Arizona in her RV with no telephone. (no cell phones in those days!).  Pillsbury officials could not reach Gloria to tell her that she had been selected as a finalist.  Instead of a telephone, Gloria had a citizen's band radio.  The local postmistress was asked to issue a community alert via the CB radio.  Luckily for Gloria, she happened to have her "ears" on at that moment and heard of her good fortune.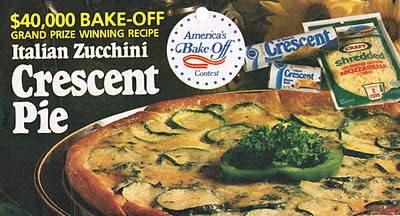 The above was available at all the grocery stores as a tear-off sheet near where the crescent rolls were sold.  The recipe is featured on the back.  For many months after the Bake-Off, I remember seeing the recipe printed everywhere.  Zucchini was a very trendy vegetable at that time and people just went crazy for this winning recipe. 
Here is another way Pillsbury honored Millicent's winning recipe – with a commemorative plate!  Look at the little zucchini, the jar of mustard, and the overall "Italian" look of the scene.  What a thrill it must have been for Millicent to see her recipe captured forever on a collector's item!
To read more about the Pillsbury Bake-Off go to http://www.bakeoff.com/
To find the recipe for the Italian Zucchini Crescent Pie: