Working on a hunch that her apple pie squares would be different and tasty, grand prize winner Mrs. Erwin (Julia) Smogor of South Bend Indiana trusted her instincts and walked away with a check for $25,000, presented to her by former first lady Mamie Eisenhower (on the left) and Mrs. Phillip Pillsbury.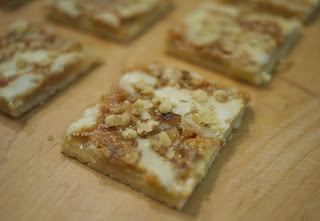 The judges thought that this apple pie dessert was delicious and different with its use of a caramel and cream cheese topping, yet was still reminiscent of everyone's favorite, apple pie.  To make the dessert, Julia used a large sheet of aluminum foil formed into a 17-by-12-inch rectangle to bake the squares.  Needless to say, it could serve a crowd, but instructions in the Bake-Off book also suggest that the recipe could be cut in half by using a jelly-roll pan.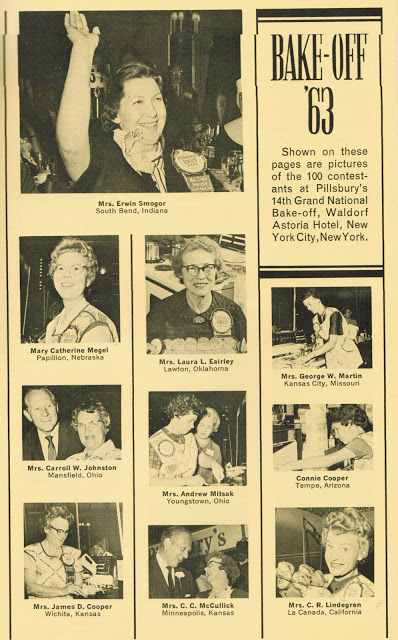 This was the first book that devoted eight pages of contestant photos, which is really fun to view with the hair-do's, hats, and clothing of the early '60's.  I actually found someone I knew here, a woman who I would compete against many years later in a state Beef Cook-Off contest when I was just beginning to enter the world of cooking contests.  (she beat me!). 
This page directly followed the photos of the contestants, where it introduced these "friends" as official Bake-Off ingredients.  As more women entered the work force in the '60's, the required ingredients of the Bake-Off began to change.  It was no longer just the flour, but now convenience products could be used in the recipes for "the working woman with a busy life."  In the Bake-Off's to follow, home cooks began experimenting with these convenience products and most recipes included at least one of them.   Pretty soon, just about everything was wrapped inside a crescent roll!
I found this Bake-Off book years ago at a yard sale.  When I brought it home and began looking through it, two pieces of yellowed paper fell out of the center of the book.  One was a recipe for "Cherry Nut Slices," which may or may not have been a past Bake-Off recipe, and the other was a short shopping list.  The list was as follows:  "Buy Carl a birthday card; get a new bra; and find something to clean the toilet bowl."  Oh, the fun of what can be discovered in old books!
This 14th Bake-Off marked the last one held at New York City's Waldorf Astoria.  Future Bake-Off's were  held at many other beautiful venues, but I don't think any of them could capture the Old-World charm and elegance of the Waldorf.  Above is a photo from the Bake-Off with a contestant enjoying her breakfast-in-bed.  When my daughter Kristina was in New York City recently, she decided to go visit the Waldorf-Astoria and see how it has changed since the Bake-Off days.  It is still a stunning hotel, with some things changed, some still the same. 
Remember the "Starlight Double-Delight Cake" from the third Bake-Off contest?  It was named for the beautiful Starlight Roof Ballroom.
If you are a cookbook junkie like me, find these cookbooks!
Here are the other Bake-Off prize winners:
-Junior Second Prize winner "Sugarplum Cake" by Frances Spooner of Junction City, Arkansas
-Senior Third Prize winner "Cake 'n Cheese Cake" by Imogene Noar of Paramount, California
-Senior Best of Class winner "Lemon Luscious Pie" by Mrs. Cecil Gorsuch of Santa Ana, California
-Senior Second Prize winner "Chocolate Macaroon Toppers" by Mrs. C.C. McCullick of Minneapolis, Kansas
-Senior Best of Class winner " Treasure Chest Bars" by Mr. Virgil Hammons of Shawnee, Kansas
-Second Grand Prize winner "Smoky Barbecue Buns" by Mrs. John Gentry, Jr. of Alexandria, Alabama
-Senior Best of Class winner "Quick Praline Rolls" by Alice Houghtaling, of San Diego, California
-Senior First Prize winner "'Tato-Flake Cheese Buns" by Rena Propst of Tuscaloosa, Alabama
-Senior Best of Class winner "Banana Split Layer Cake" by Mrs. Theodore Albertowicz of Richland, Washington
-Junior Third Prize winner "Chocolate Snocap Cake" by Peggy Maher of Hapeville, Georgia
-Junior First Prize winner "Cheeseburger Casserole" by Richard Klecka of Tinley Park, Illinois
To read my blogs from previous Bake-Off contests go to:
Bake-Off #1: http://su.pr/7gmylO
Bake-Off #2: http://su.pr/2zgjZn
Bake-Off #3: http://su.pr/7VZzZS
Bake-Off #4: http://su.pr/292acQ
Bake-Off #5: http://su.pr/2yOSvP
Bake-Off #6: http://su.pr/28VYBh
Bake-Off #7: http://su.pr/1hk3nb
Bake-Off #8: http://su.pr/22JMGd
Bake-Off #9: http://su.pr/2KkA2E
Bake-Off #10: http://su.pr/8awD1k
Bake-Off #11: http://su.pr/1CmPvD
Bake-Off #12: http://su.pr/3ogo5M
Bake-Off #13: http://su.pr/1a4HYQ
Bake-Off food photos and recent Waldorf photos were taken by my daughter, Kristina Vanni. To read her blog go to:
http://www.betterrecipes.com/blogs/daily-dish /