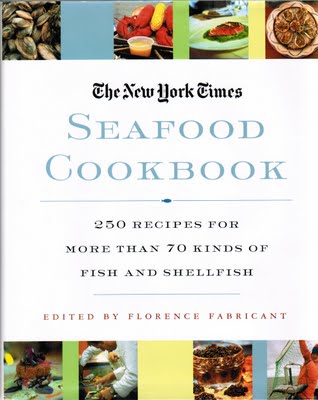 New York food writer Florence Fabricant explored the back issues of The New York Times food pages to find out what had been written about seafood, and along the way discovered social, cultural, environmental, and economic issues concerning seafood.  Ecology, health issues, globalization, travel, and cooking techniques have all affected what seafood ends up on our plates.  Americans eat more fish now than twenty years ago, and we prepare it with much more flair than a Friday fish fry.  The quality and variety of fish available to us has improved dramatically.  You won't find a fish sprinkled with paprika and broiled, but instead will find great recipes from Jacques Pepin, Pierre Franey, Mario Batali, Thomas Keller, Eric Ripert, Tom Colicchio, and other top-rated chefs. 

This is an indispensable cookbook for every seafood lover, from home cook to expert.  The author explains how to select, buy, and prepare fish and shellfish, and gives the basics for fourteen cooking techniques such as poaching, steaming, grilling, braising, and more.  The recipes are accompanied by essays written around the world by  New York Time reporters including Marion Burros and Amanda Hesser.  The book was also influenced by scientists and environmentalists who have made us aware of what seafood represents in the food chain, and how to best prepare this precious and delicious resource.
Did  you know that the popular orange roughy is actually a fish called "slimehead?"  Good thing the name was changed, but this New Zealand fish quickly became so popular that 80% of the fishery was wiped out in less than a decade.  The same thing happened to the South American fish named Patagonian toothfish, better known as Chilean sea bass.  Since those times, measures were taken to strengthen international controls on fishing, and the dwindling supplies have improved.  Farm-raised fish became popular and its consumption has doubled in the last decade, indicating the increased popularity of fish, even though diners still seem to prefer buying and consuming fish that swim freely in the sea instead of in cages.  On the average, fish is the most expensive protein on a plate, which is why it is so important to learn how to take care in its purchase, storage, and preparation.  This book will arm you with everything you need to know about fish and how to impress your family and guests with these inspirational recipes.  Every fish lover should have this cookbook!