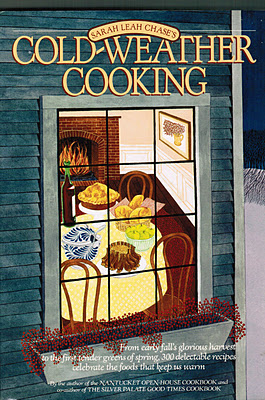 Every time I look at this cover, all I want to do is go sit at that table with a roaring fire nearby and listen to the wind howling outside and a foot of snow on the ground.  Yes, I am most definitely a cold weather girl who loves cold weather food. Okay, so it's not exactly freezing at this moment in Chicago, and I have yet to see the first snowflake, but it is very chilly and I am ready for the hearty fare of winter.  I have friends on the East coast who got hit with some massive snow this past week, and it really isn't fun losing power (been there done that way too many times!), but doesn't a steaming hot bowl of soup just taste better when it's below zero outside?  There is something so comforting about that scenario.
I have tried to figure out why I prefer fall and winter and decided it must be both biological and psychological.  I was born and raised in the Chicago area, and have lived other places but have spent most of my life in the Midwest.  When I read the introduction in Sarah Leah Chase's book, she expressed my cold weather preference perfectly:  "When I reflect upon the things that made me feel the most secure as a child, the memory of cozying up against the warm doors of my mother's double-decker oven as the evening's meal simmered comes instantly to mind.  This must have instilled within me a first unconscious sense of the special interplay that exists between a sense of nourishment and degrees of temperature."  That's it.  Thank you Sarah.  Other things like waking up to the smell of cinnamon-scented oatmeal,  fresh bread, coffee brewing, and my grandmother rocking me in her chair on a cold winter's day while reading Mother Goose, instill memories in your mind and never leave you. 
Even though I love the summer bounty of fresh produce and visiting Farmer's Markets, when the bright colors of summer fade to the warm golds and reds of fall and winter in the form of pumpkins, parsnips, cranberries, pears, and apples, I can already taste the apple crisps, creamy pumpkin soups, and roasted root vegetables.  Cooking takes on a pleasurable winter activity and a shifting of culinary gears.  What better book to start with than this one.  Sarah Leah Chase writes marvelous cookbooks, and  you will love this one.  Her chapters include:  Finger Food for Frosty Weather;  Thinking of Thanksgiving (Parts 1 and 2); Soups for the Solstice; December Dazzle; Holiday Cheer; Cold Weather Comforts; and my favorite, Stormy Weather and Magic Mountains.  Try some pumpkin and pear bread pudding, maple-glazed brussels sprouts and chestnuts, an onion soup with cider and cheddar gratin, ruby poached pears, or a pumpkin, prosciutto, and parmesan lasagne.  These recipes will make you never want to leave the warmth of your kitchen.  When the weather outside is frightful, make a bowl of Sarah's mushroom and potato soup and invite me over.  I'll be right there – unless I'm snowed in of course.