Cookbook dealers will tell you that "Betty Crocker's Picture Cookbook" of 1951 is a hot commodity.  I have the next one that was published in 1961 called "Betty Crocker's New Picture Cookbook."  Even this "new" addition has sold in the past for over $100.  These books are hard to find in mint condition because people used them until they fell apart.  The one in my possession was found at an antique store.  It is inscribed with "To Sherry, From Mom and Dad, 1966.  Sherry must have loved to bake with this book, since the cake and cookie pages are nicely spattered with ingredients.  Other than that, the book is in great shape.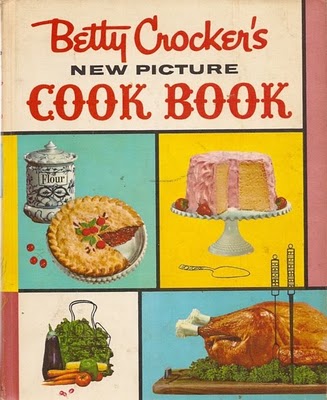 The cookbook has wonderful, timeless recipes.  Each chapter begins with a page of culinary history for that particular food item.  The vegetable chapter informs us that the ancient Greeks used vegetables as a tonic, and the Romans excelled in vegetable cookery.  Charlemagne ordered his subjects to cultivate all manner of vegetables from artichokes to watercress.  In the soup chapter,  the origin of the word "restaurant" is explained.   It seems that a popular soup of the 16th century was called "restaurant" because it was believed to have "restorative" powers.  A chef printed the name of the soup over his door to announce that he was serving it, and in time, restaurant came to mean a place where all food was served.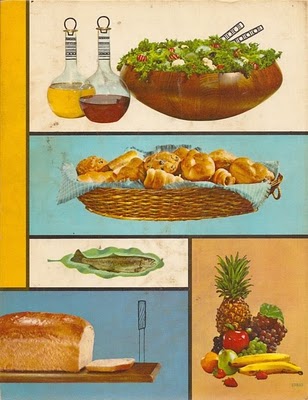 But before the great recipes and interesting historical notes are read, there is a section called "Kitchen Know-How," which consists of "Hints for the Homemaker."  One is instructed first to "refresh your spirits."  Apparently this is done in the following way:  "Every morning before breakfast, comb hair, apply make-up and a dash of cologne.  Does wonders for your morale and your family's, too!"  We are also instructed to think pleasant thoughts and make our work a labor of love, and if we have a spare moment, we must sit down, close our eyes, and just relax.  In the same thought, we are also told to stand erect to avoid fatigue, while we wash, iron, bake, shop, clean the refrigerator, and wash the floors.  Whew!  I'm tired already.
Under the heading of "Types of Table Service," the formal way is known as Russian service.  This is supposedly suited to the household with a "servant."  I don't know about you, but when I was a child in 1961, I didn't know anyone who had a servant.  Maybe it was because I lived in the suburbs of Chicago, but the closest thing in our neighborhood to a servant would have been the children helping out to set the table.  I don't even think June Cleaver had a servant.  I seem to recall seeing the Beaver and Wally set the table here and there, although I doubt Eddie Haskell would have risen to the occasion.
I think I will go now, comb my hair, apply make-up, and dash on some cologne.  Then I will go instruct my "servant" on what to make for breakfast.  Oh, wait, that's my husband.