Does anyone remember a magazine from the 70's called "Sphere?"  It was a Betty Crocker magazine, but more on the gourmet side.  It had fabulous recipes, many of which I still use today.  Not only that, they had amazing photos, decorating ideas, a very unusual wedding cake, and even patterns for clothing.   My mother, who is an expert seamstress, made me one of my favorite dresses I have ever had from one of the issues.  I think of it now and it looked very Diane von Furstenberg.  My daughters would be proud to wear it now, even though it would be from almost 40 years ago.  I wish I had it.  I can still remember my Mom and I looking forward to every issue and ooohing and aaahing over everything.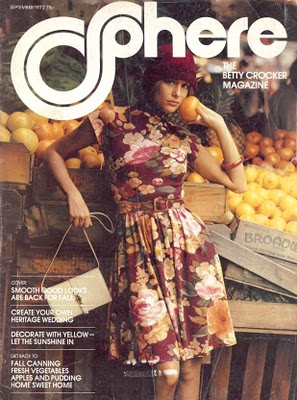 If I remember correctly, the first issue must have been around 1972.  It was originally called, "Sphere, The Betty Crocker Magazine," then later just called "Sphere,"  then even later called "Sphere Cuisine."  Sometime in the early 80's, it became "Cuisine" magazine, which is still published today, and which I also love.  But how I miss the old Sphere.  I don't think any magazine has ever excited me as much, and how I wish I still had the past issues.  But fear not, as Betty Crocker published two cookbooks, one called, "When You're Entertaining," and the other, "When You're Entertaining Internationally."  They both contain hundreds of recipes from the magazines.
"When You're Entertaining" is divided into nine chapters, with each chapter covering different kinds of parties.  Each menu includes a time schedule that tells in outline form, exactly when to prepare each recipe so everything is ready on time.  Some of the parties include a gourmet picnic , a summer salad luncheon, a Christmas buffet, a down-on-the-farm brunch , a fish grill, and dining Southern style.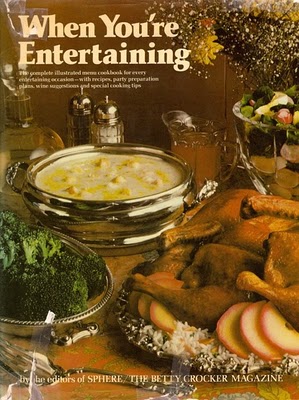 "When You're Entertaining Internationally" has the exact same set-up as the previous cookbook except with an emphasis on authentic foods from around the world.  Not only is there beautiful food photography, but also photos of the countries and regions where the foods originated.  The thirty-two full-course menus range from far-away places like the South Sea Islands, to the old Spanish-style cooking of closer-to-home St. Augustine, Florida.   Enticing titles such as a Nova Scotian Christmas, an Argentine fiesta barbecue, a Tunisian temptation, a Finnish coffee table, a British sweet trolley, or a Mayan meal, make you want to plan a party every weekend.  Both books also offer wine selections from internationally recognized wine expert, Paul Kovi, who was a partner in the famed Four Seasons restaurant in New York City.
I found a special surprise in the International cookbook.  Stuck between the pages was a yellowed sheet of paper with a handwritten recipe for liver dumplings to serve with soup.  The writer even had a tip on making the dumplings the perfect size:  "Just remember to dip the spoon first into the boiling soup, then the mixture sticks to the spoon less.  Also, dip the spoon between each spoonful.  Good luck!"  This is what I love about collecting old cookbooks; you never know what will be written inside in the columns or a carefully written recipe on a piece of paper.  I have some old cookbooks with notations such as, Grandpa loved this! or, don't make this again; or my favorite – my dog wouldn't eat this!  Now I only wish someone had included the pattern for that incredible dress.