To ring in the New Year, try this cake made with apricot brandy and a touch of rum.  It's even better if you make it now, wrap it up, and save until New Year's Day.  The cake gets better with time, as do most cakes made with spirits.  Each bite has a fruity essence that permeates each slice.  It's wonderful served with a sweetened rum whipped cream and some fresh berries.  It needs no icing, just some dusting with powdered sugar.  I love using my old antique molds and used one for the cake.  You can also make it in a tube pan or bundt pan.  Have a safe, healthy, and of course, yummy New Year!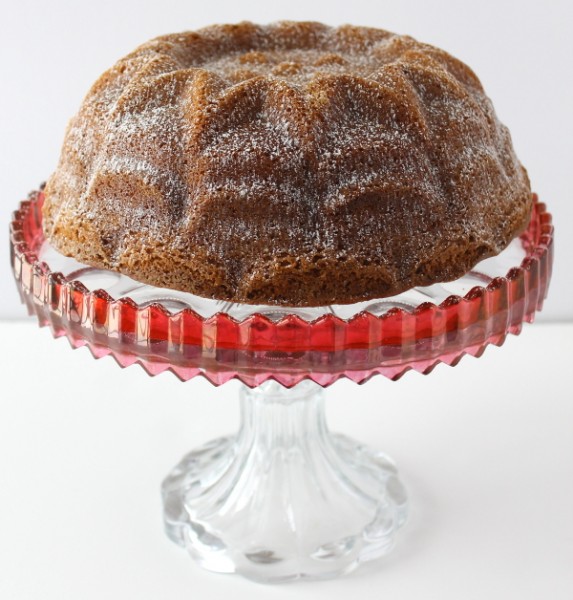 The beautiful glass cake stand is my mother's from the 1940's and one of my favorite pieces.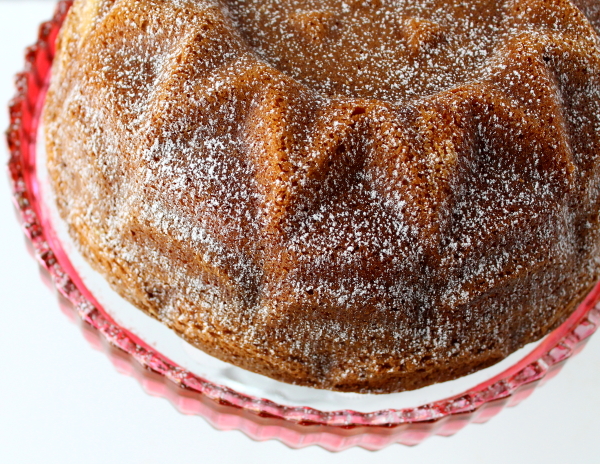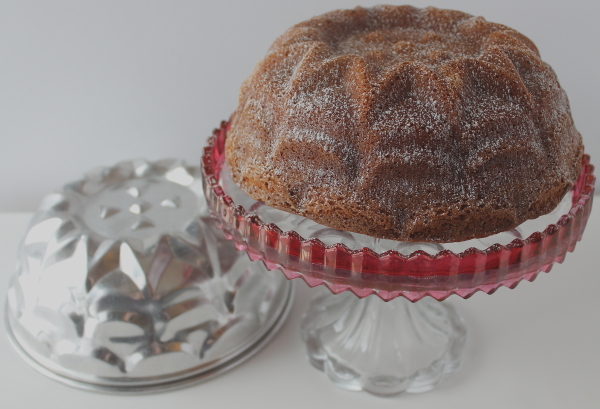 Apricot Brandy Pound Cake
1 cup unsalted butter, room temperature
2 cups sugar
6 eggs
1 Tablespoon rum
1 teaspoon vanilla extract
1/2 teaspoon lemon extract
3 cups all-purpose flour
1/2 teaspoon baking soda
1/2 teaspoon salt
1 cup sour cream
1/2 cup apricot-flavored brandy
Powdered sugar, for dusting cake
Sweetened whipped cream (with some rum!) and fresh berries (optional)
Heat oven to 350 degrees.  Have a tube pan, bundt pan, or decorative mold such as tubed turban, kugelhof, or sandorte pan well buttered and flour-dusted; set aside.
In bowl of electric mixer, beat together butter and sugar until creamy.  Add eggs, one at a time, beating well after each addition.  Add the rum, vanilla, and lemon extract.  Stir together flour, soda, and salt.  Add flour mixture alternately with the sour cream and brandy to the creamed mixture; beat well after each addition.
Pour batter into prepared pan and bake for 70 minutes or until a wooden skewer inserted in the crack of the cake comes out clean and the crust is well-browned.  Cool cake in pan for 10 minutes, then turn out onto a wire rack to cool completely.  Dust with powdered sugar before serving.  Serves 10-12.  As mentioned above, the cake gets better with age.  If you can wait, keep it wrapped in plastic wrap at room temperature for a day or two before serving.