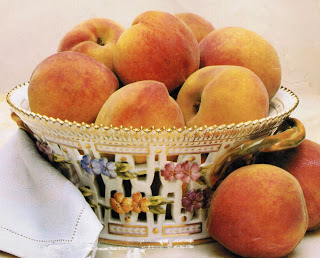 Here is a summer peach pie with a kick!
Lattice-Top Peach Pie with Mint and Rum
Favorite pastry for 2-crust lattice pie, or use recipe below
4 cups sliced pared ripe peaches (about 8 medium)
1 Tablespoon dark rum
1 teaspoon fresh lemon juice
1/4 cup sugar, divided
2 Tablespoons cornstarch
2 teaspoons minced fresh mint
1 egg, separated
1.  Make your favorite pie pastry, or use recipe below.
2.  Heat oven to 350 degrees.  Toss peaches, rum, and lemon juice in a large bowl.  Process 3 Tablespoons of the sugar, cornstarch, and mint in a blender until mint is finely ground.  Sprinkle mint mixture over peaches; toss to mix well.
3.  Roll out 2/3 of the pastry 1/8-inch thick on lightly floured surface; fold into quarters.  Ease and unfold into 9-inch pie pan or 9-by-11-inch tart pan with removable bottom.  Press pastry gently against bottom and sides of pan.  Trim edges to leave 1/2-inch overhang.  Roll out remaining pastry 1/8-inch thick on lightly floured surface.  Cut into 1/2-inch wide strips.
4.  Lightly beat egg white in small bowl with fork; brush over bottom of pie shell.  Fill shell with peach mixture.  Arrange pastry strips in lattice pattern over filling, pressing ends of strips onto bottom shell.  Fold overhang over ends of strips; crimp to seal.
5.  Beat egg yolk in small bowl with fork.  Brush over lattice strips carefully; do not let yolk drip onto filling.  Sprinkle lattice strips with remaining 1 Tablespoon sugar.  Bake until juices are bubbling in center and crust is golden brown, 40-50 minutes.  Cool on wire rack to room temperature. 
Pie Pastry:
2 cups all-purpose flour
1 Tablespoon sugar
5 Tablespoons solid vegetable shortening
5 Tablespoons unsalted butter, cold
6-8 Tablespoons cold water
Mix flour and sugar in large bowl.  Cut in shortening and butter until mixture is size of small peas.  Sprinkle water, 1 Tablespoon at a time, over flour mixture, tossing with a fork until mixture cleans sides of bowl.  Turn onto lightly floured surface; form into a ball, handling lightly and briefly as possible.  Wrap ball in plastic wrap and refrigerate at least 30 minutes.  Makes enough pastry for one 9-inch lattice-topped pie.