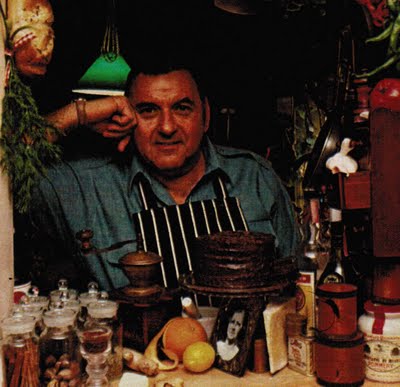 Hello, Bert.  How I still miss you.  If Bert Greene were still with us, he would tell you his favorite summer herb was basil.  When he ran The Store in Amagansett on Long Island, he used to grow yards and yards of it in a brick-bordered kitchen garden behind his house.  This is the pesto he loved.
Pesto Alla Genovese
2 cups coarsely chopped fresh basil
3/4 cup olive oil
1/2 cup chopped fresh flat leaf parsley
1/4 cup pine nuts
2 large cloves garlic, chopped
1-1/2 teaspoons coarse salt
1-1/2 teaspoons freshly ground black pepper
1/2 cup freshly grated Romano cheese
1.  Place all ingredients except cheese in blender or food processor fitted with metal blade.  Process with on/off turns until smooth, about 4-5 minutes.
2.  Transfer mixture to medium bowl; stir in cheese.  Taste and adjust seasonings.  Pesto can be refrigerated, tightly covered, up to 3 months, or it can be frozen.
Bert's Pesto Tips:
This recipe makes 6 servings when served over cooked pasta; pass additional Romano cheese.  Other uses for pesto are dressing for potato salad; mixed with rice and nuts for roast chicken stuffing; spooned over cold poached vegetables; and stirred into fresh vegetable soup to taste.