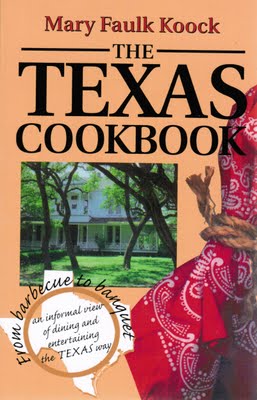 My Texan friend, Roxanne, now a transplanted Midwesterner, sent me this cookbook that she bought when she was back home visiting.  Once a Texan, always a Texan.  Roxanne is a great cook, and should be included in this book herself.  Author Mary Faulk Koock traveled throughout the Lone Star State gathering recipes from ranch kitchens and city hostesses.  For many years, she was the proprietor of a restaurant and catering service at her home, "Green Pastures," considered "The Grande Dame of Austin restaurants" at the time, where she served the famous and influential of Texas society.  One of Mary's first parties was to entertain and feed  the governor of Texas along with the governors of the bordering states and all the Texas legislators and senators.  One had to have a "title" to be invited to this particular party.  The hand-blocked invitations on homespun-like gingham were sent out to eight hundred guests.  A fifteen piece orchestra came from Mexico City to play for the dancing.  A pinata was filled not with candy, but fancy-wrapped little packages from Neiman-Marcus, along with ten dollar gold pieces!  (I hope people saved those).  The barbecue supper was served from a chuck wagon, with the beef being purchased from a local 4-H Club showing.  I can't even imagine how much fun that party was, and wouldn't be surprised if people still talk about it.
Some of the small towns, cities, and ranches written about in the book are Dallas, Tyler, Brownsville, Rockdale, Luling, King Ranch, The LBJ Ranch, Houston, Amarillo, Columbus, Corpus Christi, El Paso, and many more.  Each chapter has charming stories about each place and what makes it unique.  Menus and recipes are included from the families.  On the menu of one party was a platter of small tender slices of something that no one could guess. People guessed everything from rattlesnake to elk, but it turned out to be armadillo. (the recipe is not included in the book!).  When I lived in Oklahoma City many years ago, armadillos were considered road kill! 
The cookbook has endless recipes for fabulous dishes such as Mrs. Lyndon B. Johnson's famous peanut brittle;  green chiles stuffed with guacamole; cornbread and ham casserole; crab newburg; fried dough;  fried okra; deviled crab; hominy casserole; scalloped oysters; crawfish etouffee; and "Son-of-a-Gun" stew.  I could eat just about anything in this book, except maybe the armadillo. But I would love to have a swipe at a Neiman-Marcus-filled pinata!
Watch later in the week for a very special cookbook giveaway!!