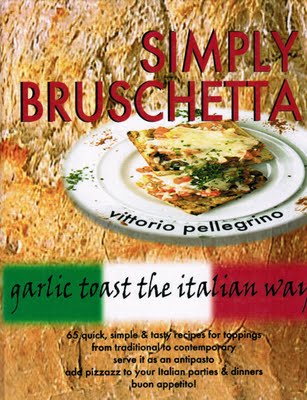 Bruschetta con aglio translates as garlic with toast.  It originated in the northwestern province of Tuscany, where it is called "fettunata," or "oiled slice."  It is the perfect marriage of garlic, olive oil, and coarse salt on toasted bread.  The Romans called it "bruschetto."  Regardless, it is a favorite appetizer of many around the globe.  Once a topping is added, it is simply referred to as bruschetta. 
Bruschetta's popularity has grown to where it can even be part of the main meal; just add wedges of cheese, a crisp garden salad, some grapes, a bottle of wine – and you have an easy and delicious simple dinner.  This great cookbook suggests 65 ways to prepare bruschetta.  People have caught on to bruschetta just like pizza and pasta.  Most ingredients can be found at any grocery store, not to mention it's easy and everyone loves it!
Preparing basic bruschetta is a very simple process:  toasting both sides of thick, rustic Italian bread, rubbing fresh garlic on the bread while still hot, lightly drizzling with a fruity, extra virgin olive oil, and sprinkling with sea salt (some also add fresh ground pepper).  But remember, Italians would not find butter to be acceptable for brushing on the bread.  It must be olive oil! 
I love the author's suggestion of offering a bruschetta "bar," not unlike a salad bar.  On a beautifully set table, offer slices of freshly toasted bread along with a variety of toppings so each guest can create their favorite version of bruschetta.  You won't have any problem trying to think of ideas for toppings – that's what this book is all about!  Here are just a few of his suggested toppings:  gorgonzola and red onion;  Italian sausage, peppers, and onions; prosciutto and melon; mixed greens; smoked salmon and capers; orange and anchovy; ricotta and olives; dandelion greens and  pancetta; cucumber with dill and balsamic vinegar; or butternut squash with pine nuts and bacon.  You will find all of the toppings in the book simply delectable, or come up with your own ideas.  This would be a fun summer party to have out on the deck in the summer, especially with the fresh ripe tomatoes now available at Farmer Market's or your own garden.  As the author says, "Food is not something you give, it is something you share."  Share your bruschetta bar and some great wine with your friends!