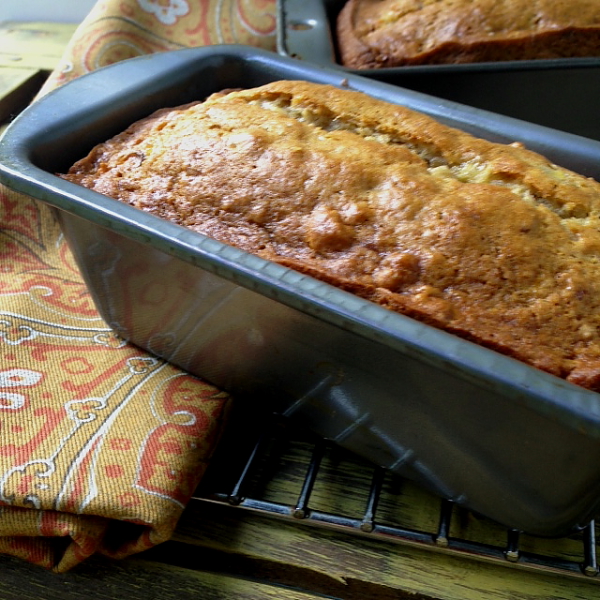 Just about everyone loves banana bread.  It is one of the most searched recipes on the internet.  This version might be a little healthier than some you will find.  It uses less sugar and oil, and has egg whites instead of whole eggs.  I like to add toasted walnuts for added nutrition and crunch.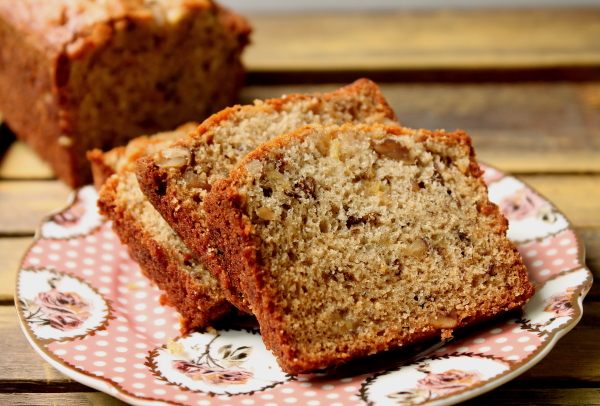 This recipe makes one 8-by-4-inch loaf or two mini-loaves which is what I like to make.  I wrap one loaf up and wait until the next day to slice it because it gets even more moist, and the other one I wrap and freeze.  When my husband travels on the road he likes to have something to munch on and the banana bread is all ready to pull out of the freezer for him to take along.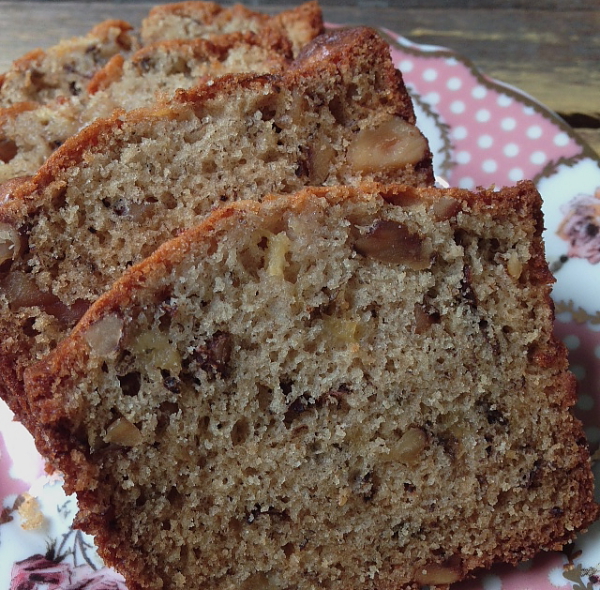 I love the chunks of toasted walnuts!
A (little) Healthier Banana Bread
1-1/2 cups all-purpose flour
1-1/4 teaspoons baking powder
1/2 teaspoon baking soda
1/2 teaspoon ground cinnamon
1/8 teaspoon salt
2 slightly beaten egg whites
1 cup mashed very ripe banana
3/4 cup sugar
1/4 cup canola oil
1/2 cup coarsely chopped toasted walnuts (optional)
Heat oven to 350 degrees.  Coat an 8-by-4-inch loaf pan or 2 mini loaf pans with non stick spray; set aside.
In a medium bowl stir together flour, baking powder, baking soda, cinnamon, and salt; set aside.
In a large mixing bowl stir together egg whites, banana, sugar, and oil.  Add flour mixture all at once to banana mixture.  Stir until just moistened.  Stir in walnuts, if using.  Spread batter into prepared pan or pans.  Bake for about 40 minutes if using the large pan, and about 30 minutes if using the mini pans, or until a toothpick inserted in the center comes out clean.
Cool the bread in the pan or pans on a wire rack for 10 minutes.  Remove from pan and cool completely.  Wrap bread in plastic wrap and store overnight for best flavor and cutting.  Bread also freezes well.