This is a publication of Gourmet Magazine from 1961.  The author and chef, Louis Diat, was a contributor to the magazine over a twelve-year period beginning in 1946.  Chef Diat of the Ritz was something of a gastronomic legend in the tradition of the great chefs who left behind them written records of their culinary achievements.  Monsieur Louis was convinced that anyone who was interested enough to read and study the philosophy of French cuisine and put them into practice could become a fine cook.  Fortunately for those of us who want to learn, the chef had his secretary type his recipes over the years for practically every dish in the classic cuisine, which makes this book an invaluable resource.  Unlike many French cookbooks, this one contains the words of the chef himself, giving his advice and encouragement along the way, and including stories of growing up in the world of cooking as a young apprentice all the way to commanding the kitchens of the Ritz Hotel. 
The Chef divided the book into sections of soups, sauces, cooking methods, shellfish, variety meats, game, stuffings, carving techniques, vegetables, salads, souffles, pancakes and fritters; eggs, cheese and rice; garnishes, Hors 'd Oeuvre; cold buffets, desserts; bread, pastries, and cakes; and French specialities.  In the soup chapter, Chef Diat writes how proud he was as a young chef to be in charge of the endless parade of  ingredients that went into making stocks and sauces.  When preparing leeks, he would wash and wash again, to flush out every grain of lurking sand until they were perfect for something like vichyssoise.  I enjoyed the soup chapter immensely, as it reminded me of the first time I tasted vichyssoise.  I remember a time back in junior high school when my mother prepared the beautiful soup for dinner.  I took a spoonful, thinking it was a  hot potato soup and it was ice cold!  I thought my mother forgot to heat it up.  I ended up loving that soup, and now wonder if my mother still has the recipe she used, or how she seemed to enjoy introducing something new to the dinner table.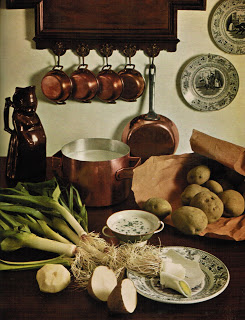 Vichyssoise in the making!
One of the first French dishes I remember making myself was Coquilles Saint-Jacques au Gratin.  I found the scallop shells at the old Cost Plus at Fisherman's Wharf in San Francisco and couldn't wait to try the recipe that I found in a French cookbook from the library.  I thought I had died and gone to heaven after the first bite – and I still love it.  I am going to pull out those shells again and make the Coquilles Saint-Jacques Florentine in the Gourmet book. 
Even though this book is very large, it is still easy to navigate recipes.  The recipes are clear, precise, and easy to follow.  With the chef adding his personal notes, this book is more enjoyable than some of the complicated French cookbooks.  There is no better way to learn than from someone who is generous in their teachings, and Chef Louis Diat is one of that philosophy.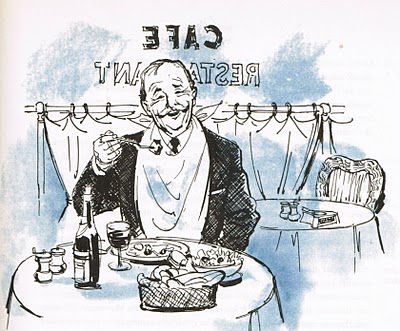 Bon Appetit!