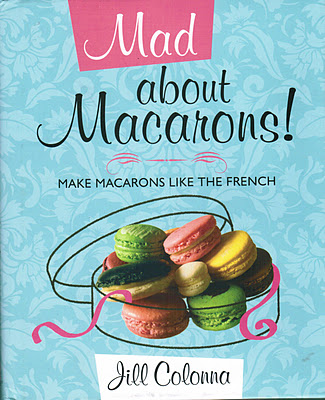 Sadly, I have never been to France, but when I go (not if!) one of the first delicacies I will seek out at a patisserie is a real Parisian macaron.  These delicate and airy meringue-based shells are filled with moist centers of ganache, custard cream, or other fillings.  The art of making the perfect macaron is a highly respected art in France, as it requires precision and just the right technique.  After making macarons, they must be refrigerated for 24 hours before indulging because the center will moisten into the meringue.  They will keep in the refrigerator for a week, or frozen for up to three months, which makes them perfect for gift-giving this holiday season.  With this book and its precise directions, you will dazzle your guests – and yourself. And remember – they will become addicting!
Macarons date back to the Renaissance, and by the 18th century they resembled the Italian-style amaretti biscuits.  It was in the early 20th century that the modern macaron from Paris was created by and introduced by Pierre Desfontaines.  He was the second cousin of Louis Ernest Laduree, founder of the celebrated macaron patisserie, Laduree.   The French macaron comes from the Italian "maccherone" or Venetian "macarone," meaning finely crushed or a fine paste.  The paste consists of ground almonds, egg whites, and sugar that form the macarons characteristic silky smooth dome and its ruffled and airy base.  Remember that this a French "macaron" not a "macaroon" which is based on coconut.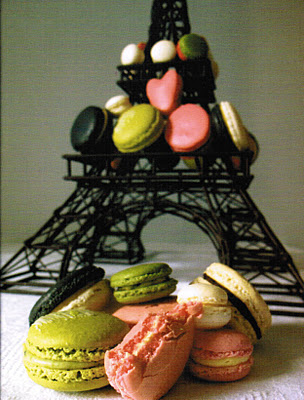 There are the classic flavors of pistachio, chocolate, rose, lemon, and vanilla, but author Jill Colonna includes her inspiring combinations such as pistachio-white chocolate-wasabi; tiramisu; and cardamom-ginger.  There is a chapter called "Mad Macs" that offers savory versions such as Thai green curry; Tikka "macsala," Bloody Mary, and garden herb.  There are desserts using macarons such as caramel macaron "Tatin" style; and a sticky toffee macaron pudding.  Since you will have leftover egg yolks when makiing macarons, there are ideas and recipes for using them in creme brulee, pots de creme, chocolate mousse, lemon curd, quiches, rice pudding, mayonnaise, zabaglione, and Hollandaise sauce.
The only drawback for some readers who wish to try the recipes is that the measurements are in metric.  However, the author believes that one should purchase a digital scale because they are more precise, and some measurements in small amounts cannot be measured easily in cups or spoonfuls. 
Remember that macarons are not gobbled, but instead are "degustes," meaning "tasted."  The greatest satisfaction is in that first delectable bite.  And unlike cupcakes, macarons taste even better the next day, and the next, and the next….
Bon Appetit!