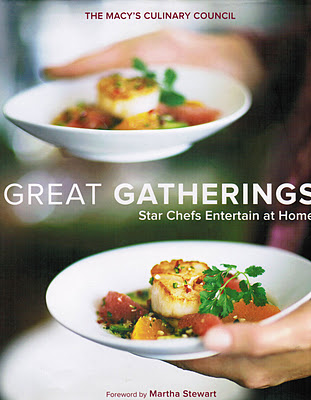 Sixteen star chefs.  Sixteen fabulous parties.  How's that for ideas on how to start cooking for the holiday season?  Chefs certainly know how to throw a good party.  After all, they spend their lifetimes mastering recipes and hospitality and turning them into magic.  Now you can read about how to make your next holiday gathering a hit with your friends and family so they will be talking about you long after the New Year.  These star chefs of Macy's "Culinary Council" include Govind Armstrong, Rick Bayless, Elizabeth Brown, Cat Cora, Tom Douglas, Todd English, Tyler Florence, Gale Gand, Dave Lieberman, Wolfgang Puck, Andrea Robinson, Marcus Samuelsson, Tim Scott, Nancy Silverton, Ming Tsai, and Takashi Yagihashi.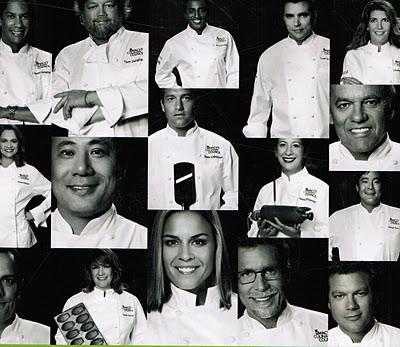 Ask these sixteen chefs their secrets to memorable entertaining, and you will likely get sixteen different suggestions.  Here are some of them:
Tim Scott:  "A special occasion is a great excuse to splurge on a luxury ingredient – caviar, truffle cheese, or duck.  When I was growing up, it was always live lobsters on Christmas Eve."
Rick Bayless:  "Buy part of the dessert and add something to make it homey.  Like topping a slice of wonderful pound cake from a bakery with in-season fruit and whipped cream flavored with a little liqueur."
Elizabeth Brown:  "When you're cooking for a party, always make extra food.  You'll avoid the risk of running out, and the day after, you'll have all kinds of great leftovers to eat."
Marcus Samuelsson:  "At the start of a party and while people are eating, I like to play soft vocal music in a language the guests probably don't speak – like Portuguese.  It's less distracting and makes it easier to have a conversation." 
Ming Tsai:  "Always have a house cocktail. It's a great icebreaker.  Ask people what they want to drink and they never quite know.  Hand them your special cocktail, and they almost always love it."
Each chef has their own chapter on what kind of party to have such as a drop-in dinner party, a crabfest, Chinese New Year's banquet, antipasto table, Sunday morning smorgasbord, the ultimate brunch, or even a paella party.  There are complete menus and plenty of tips and ideas.  You can re-create the entire menu or use just a few of them, then supplement with your own family favorites, which is fun to do since many times people like to contribute dishes to family gatherings and parties.   What I like to do is have as much done as possible the night before, like decorating the table, use make-ahead dishes whenever possible, and set the table.  I make a list of what needs to be done in advance and then work backwards from the deadline time.  It's always best to start early and stay organized. 
This is a great cookbook with incredible yet easy recipes, and beautiful photos of the food as well as the chefs.  Sit back, relax, and enjoy your own party.  You will become a celebrity food star to your family.  Just be prepared that everyone will always want you to host the parties from now on.