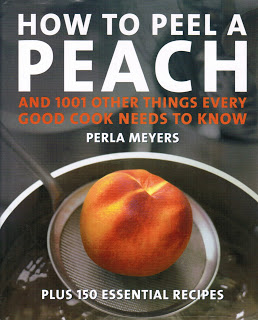 Just when you think you know all there is to know about cooking, along comes Perla Meyers to teach us more.  If you are a regular reader of my blog, then you know how much I love Perla's books.  I can never get enough of her wonderful recipes, invaluable advice, and culinary philosophy.  Whether you are a beginner or seasoned cook, chances are you sometimes have questions – and Perla will answer them.  The book is like having her at your side and teaching a special class just for you.
Most cooking classes are set up to be recipe driven with basic ingredients and techniques.  How many of us have taken cooking classes where we sit out in an audience and just watch the person cook and talk?  Not that it's a bad way to do it, but in Perla's classes she takes it a step further.  The class starts by taking a trip to a grocery store, Farmer's Market, or specialty store.  The class is broken up into groups, and each group shops for one of the recipes that will be made in class that day, and even with the option of picking up some vegetables for another dish of choice.  When the groups are done, it's back into the kitchen to go over how each group did the marketing, and to answer any questions.  The group may find they have many questions.  For example, if they couldn't find fresh basil or thyme, could dry be substituted for a particular recipe?  If a pear dish was to be made in class, what if the pears felt like rocks?  Could you switch to a seasonal fruit and still make the recipe work?  Perla believes good food starts with good ingredients and the more you know, the more successful the shopping experience will be for the cook. 
The book is very user-friendly, set up in a "Question and Answer" format.  Every home cook has questions, whether they be basic or more complex questions on everything from kitchen equipment, pots, utensils, or how to stock a pantry.  For example, some of the questions include –  Are there some pots that are better suited for cooking on an electric stove?  My mother gave me her cast iron skillet; how can I use it so that food doesn't stick?  How long can I store cooking oil, and does it need to be refrigerated?  How do you juice ginger?  The flavors of my home grown sage, thyme, and tarragon seem different from what is served in restaurants.  Is it my imagination?  What is the difference between a character herb and accent herb?  Are there any types of fish that are less fishy tasting?  This book will answer almost everything you can think of!
Besides all the Q & A's there are also 150 essential recipes for vegetables, seafood, poultry, meat, pasta, grains, beans, fruit, and grilling.  They are all equally wonderful and easy to follow.  The more you cook, the more confidence you will gain. Cooking is all about picking the right ingredients, tasting, and feeling that it is worthwhile.  A state-of-the-art kitchen is not necessary; it's all about the love of cooking.  When my daughter Kara lived in a tiny walk-up apartment in New York City, the stove, sink, and everything in the kitchen was tiny.  I was still able to make dishes like a big batch of my homemade spaghetti sauce for her with limited space, utensils, and pans, so it can be done!  It just takes a little ingenuity and a love of cooking.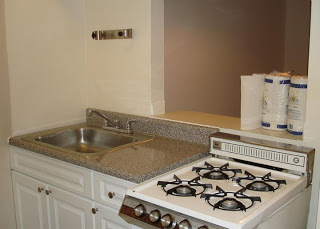 Kara's tiny NYC kitchen – the stove looked like a toy!
And that little space next to the stove was the only countertop!
The whole kitchen would barely fit two people.
If you are looking for a bridal shower gift, birthday gift, or other celebration, and you know the recipient loves to cook or desires to learn, they will appreciate and love this cookbook.  You can trust Perla.