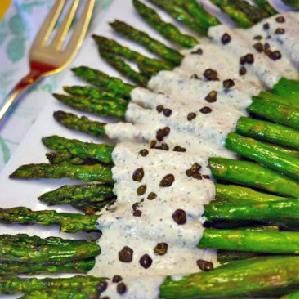 Asparagus is so perfect right now, and also a wonderful side dish for a Mother's Day brunch.  This recipe was a weekly recipe contest winner at http://www.betterrecipes.com/blogs/daily-dish/, my daughter Kristina's website, and is so delicious!!
Garlic-Roasted Asparagus with Lemon-Dill Aioli
2 pounds medium asparagus, tough ends trimmed
2 Tablespoons garlic or roasted garlic-flavored olive oil
Kosher salt and freshly ground pepper, to taste
1 cup mayonnaise
1 medium shallot, chopped
1-1/2  Tablespoons fresh lemon juice
1 teaspoon grated fresh lemon zest
3 Tablespoons chopped fresh dill
1-1/2  teaspoons minced fresh garlic
1 Tablespoon country-style Dijon mustard
1 Tablespoon olive oil
1/4 cup capers, drained and patted dry
Preheat oven to 450 degrees. Toss asparagus spears with garlic oil and arrange, in a single layer, on a large baking sheet. Sprinkle lightly with salt and pepper. Roast in the center of the oven for 10-15 minutes, stirring once, until lightly browned and tender-crisp. Meanwhile, in a blender, or mini food processor, combine the mayonnaise, shallot, lemon juice, lemon zest, dill, garlic and mustard;  puree. Season to taste with salt and pepper. In a small nonstick skillet, heat 1 Tablespoon olive oil over medium high heat. Add capers and saute for 3-4 minutes, until lightly browned. Transfer asparagus to a serving platter, drizzle with aioli, and sprinkle with toasted capers.  Serves 6.  Any leftover aioli can be refrigerated for 2 days, and would be great with salmon, potatoes, carrots, or green beans.