In the winter a good hot breakfast is the way to start the morning.  These hearty, fruity and delicious pancakes will keep you going all day.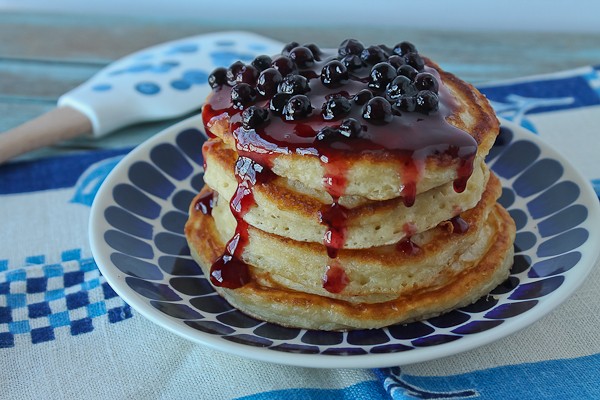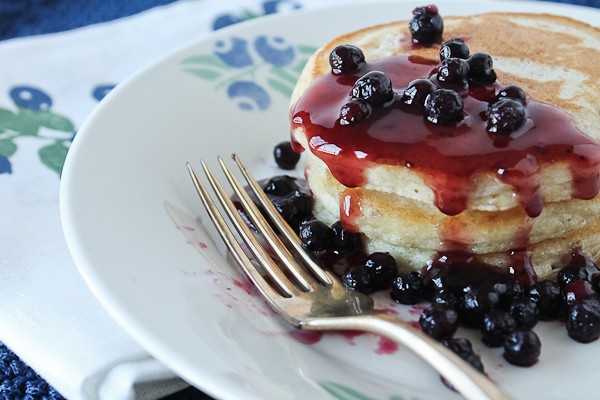 The pancakes are made with buttermilk (my favorite liquid to use), and mashed ripe bananas.  The syrup is made by simmering fresh or frozen blueberries with a little lemon zest, then straining out the juice and combining it with maple syrup.  Pour over the hot pancakes along with more blueberries.  Or if you prefer a more jam-like topping, skip the straining step and add the syrup to the cooked blueberries.  I rather liked the look of the syrup with the blueberries sprinkled around it for photographic purposes, but both ways taste wonderful.
Take a bite and enjoy the day!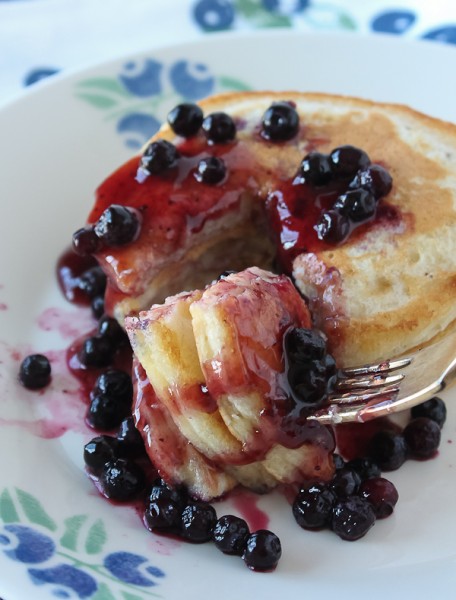 Banana Pancakes with Blueberry Syrup
Ingredients
2 cups all-purpose flour
¼ cup sugar
4 teaspoons baking powder
½ teaspoon baking soda
½ teaspoon salt
1-3/4 cup buttermilk
4 large eggs
¼ cup butter, melted and cooled
¾ cup mashed very ripe bananas
Cooking oil as needed for pan
Blueberry Maple Syrup:
4 cups fresh or frozen blueberries
1 teaspoon grated lemon rind
1 cup pure maple syrup
For Garnish: additional blueberries and/or powdered sugar, if desired
Instructions
For pancakes: Combine the flour, sugar, baking powder, baking soda, and salt together in a mixing bowl. In a separate bowl, blend the buttermilk, eggs, and butter with a whisk until well combined. Add mashed bananas and mix well.
Make a well in the dry ingredients and add the liquid ingredients all at once. Stir by hand with a rubber scraper just until the batter is evenly moistened.
Heat a griddle over medium-high heat and oil it lightly. When hot, drop the pancake batter using a ¼ cup measure, leaving the pancakes a couple inches apart. Cook until bubbles appear on top and the edges are set, about 2 minutes. Carefully flip pancakes over and finish cooking on the other side, another 2 minutes or until nicely golden. Serve at once, dusted with powdered sugar if desired, and served with the blueberry syrup and additional blueberries.
To make the blueberry syrup: Have the syrup ready before you begin the pancakes. Combine the blueberries and grated lemon rind in a saucepan and simmer over medium heat, stirring until most of the juice has been released and the mixture develops a sauce-like consistency, about 10 minutes. At this point you can prepare the syrup/topping two ways: for a more syrup-like topping, strain the blueberry mixture through a fine mesh sieve into a clean saucepan and press out all of the juice. Return the juice to a simmer and add the maple syrup. Simmer for another 10 minutes. Or if you prefer a more fruity texture, simply skip the straining and just add the maple syrup to the cooked blueberries and lemon zest and cook until it has a soft jam-like texture.