It's been quite the stormy weekend in parts of the country.  My daughter Kristina lives in New York City and as you probably know, they were hit hard.  Kristina went out early as many did, and stockpiled food so she could stay in and cook.  Weather here in the Chicago area was not bad, just cold, and enough to make me lazy and not want to go out and shop for a couple hours, which means by last night dinner got challenging.  I was thawing out some ground beef to make spaghetti sauce but it was still mostly frozen.  There was a day old half loaf of French bread, a half can of pizza sauce in the refrigerator, some cheese, and eggs.  Sounded like a pizza to me, but I decided to try it a little different from just spreading everything on a the split bread halves.  I still split the bread in half lengthwise, but then sliced it again into 3/4-inch pieces and lined the bottom of a 9-inch cast iron skillet. I whisked some eggs with Parmesan and poured it over the bread and let it set for a few minutes while I browned some of the ground beef that was thawed around the edges, about 6-8 ounces.  I spread the bread with pizza sauce, sprinkled on some shredded cheese and the ground beef, covered the pan with foil and baked it for about 15 minutes.  After taking off the foil, sprinkling on more cheese and returning it to the oven to melt, we had dinner in less time than it would have taken to order a pizza.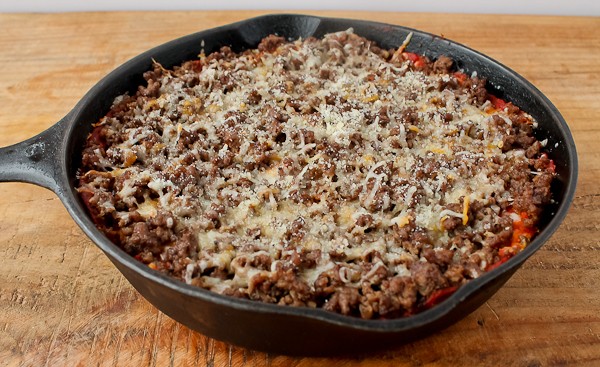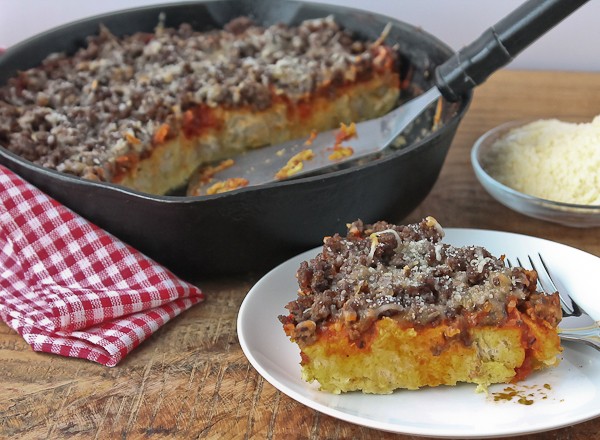 We decided it was like an easy version of a Chicago deep-dish pizza.  I'm definitely going to make it again, but with variations – pepperoni instead of beef, and vegetarian with mushrooms and peppers, and probably Swiss cheese.  It's so easy to make your favorite variety of pizza.  Have fun with it.  Use leftovers.  Stay warm inside instead.

Skillet Bread Pizza
Ingredients
Olive oil, for coating pan
French bread, about a half loaf sliced lengthwise
5 eggs
½ cup grated Parmesan cheese
Salt and pepper, to taste (depends on how salty ingredients are being used)
6-8 ounces ground beef, browned and drained (or your favorite topping like pepperoni, vegetables, etc)
¾ cup pizza sauce
¾ to 1 cup shredded cheese of choice, divided
Instructions
Heat oven to 375 degrees. Grease a 9-inch cast iron skillet or other oven-proof skillet with olive oil.
Cut the split French bread into ¾-inch crosswise slices and line the bottom of the skillet, cutting to fit where necessary. In a bowl, whisk together the eggs and Parmesan (and seasonings if using) and pour evenly over the bread pieces in skillet. Let pieces soak for 15 minutes.
While bread is soaking, brown the ground beef and remove with slotted spoon to paper towel-lined plate to drain.
After bread has soaked, spread it evenly with the pizza sauce. Sprinkle with half of the cheese and all of the prepared ground beef. Cover the skillet with foil and bake for 15 minutes. Remove foil, sprinkle on remaining cheese and return to oven for another 5-10 minutes or until cheese melts and pizza is set. Let stand for a couple minutes, then sprinkle with a little extra Parmesan if desired, and serve hot. Serves 4.