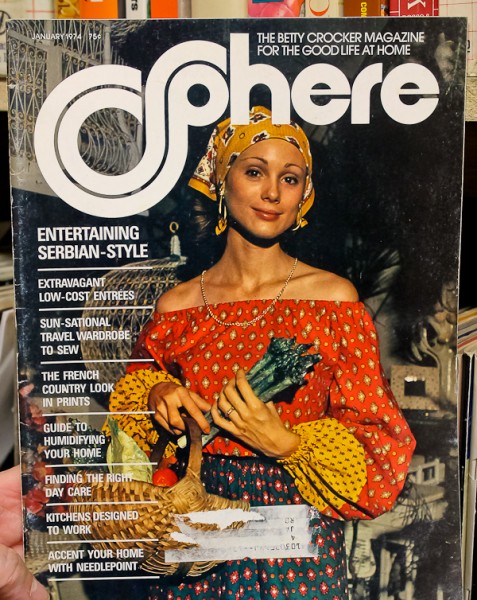 It's the beginning of a whole new year of monthly features of vintage Sphere magazine!  January's issue begins with a dinner menu with family recipes from a Serbian dentist that features a cheese pudding with feta, cottage cheese, and phyllo sheets.  The entrée includes pork, a leek moussaka, lima bean casserole, and a raw salad of onions, peppers, and tomatoes.  Dessert is a luscious pecan and chocolate torte.
An article on the cabbage family features recipes using cauliflower, broccoli, and Brussels sprouts, with a cauliflower and potato curry that sounds like something I want to make right now.  There are four pages of economical recipe ideas, one using fish sticks, which I remember loving in my youth.  My palate has matured since then!
There is a stuffed mushroom recipe that sounds perfect for a party, or even for the Super Bowl coming up soon. The mushrooms are filled with crabmeat  mixed with green onion, Parmesan, and lots of fresh herbs.  This issue also has quite a few patterns for afghans and needlepoint which were very popular in the early '70's.
The recipe I decided to try for this month is from an article titled "Dried Fruit:  A Winter Winner."  The recipes include a roast chicken with prunes and apples, a port-raisin sauce for ham, Scandinavian Fruit Soup, apple-honey date bread, rice and fig cream, sweet and sour beef with fruit, fruit and nut chutney, ham hocks with dried apples and dumplings, sesame pear muffins, date appetizers, prune fritters, and these honey fruit balls.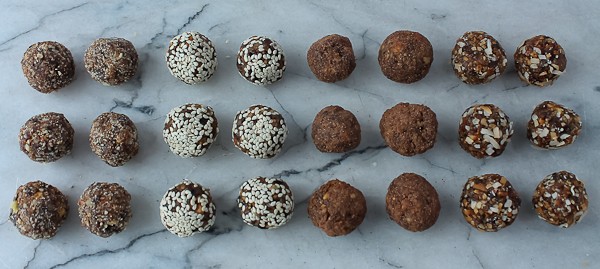 First a mixture of prunes, dates, golden and dark raisins, and coconut are ground in a food processor.  Wheat germ, honey, orange zest and juice, and chopped nuts are added.  The mixture is formed into bite-sized balls and then rolled in your choice of coating:  chopped nuts, sesame seeds, cocoa mix or chocolate milk powder, or coconut.  Or use your imagination.  The finished treats can be stored in the refrigerator for several weeks, making them a great after school snack or even a breakfast to grab when you have no time to make anything.

Honey Fruit Balls
Author:
Sphere Magazine, January 1974
Ingredients
1 cup pitted prunes
1 cup pitted dates
1 cup golden raisins
1 cup dark raisins
1 cup shredded coconut
½ teaspoon salt
½ cup wheat germ
2 Tablespoons honey
1 teaspoon grated orange peel
2 Tablespoons orange juice or apple juice
½ cup chopped nuts of choice
For rolling in balls: toasted coconut, cocoa mix, chopped nuts, sesame seeds, crushed granola, etc.
Instructions
Grind prunes, dates, raisins, coconut, and salt in food processor until mixture is thick and holds firmly together. Remove ingredients to a large bowl and add all remaining ingredients except for what the balls will be rolled in. Mix with a spatula or spoon to combine, but after mixture is combined, use your hands to form into a ball and knead gently to blend ingredients well.
Form mixture into 1-inch balls. Roll in desired coatings. Store in an airtight container or refrigerate for up to 3 weeks. Makes about 5 dozen bite-sized balls.
Note: The amount of moisture in dried fruit can vary. If mixture is too sticky to hold a shape, add a small amount of wheat germ. If it is too stiff and dry, add a small amount of fruit juice.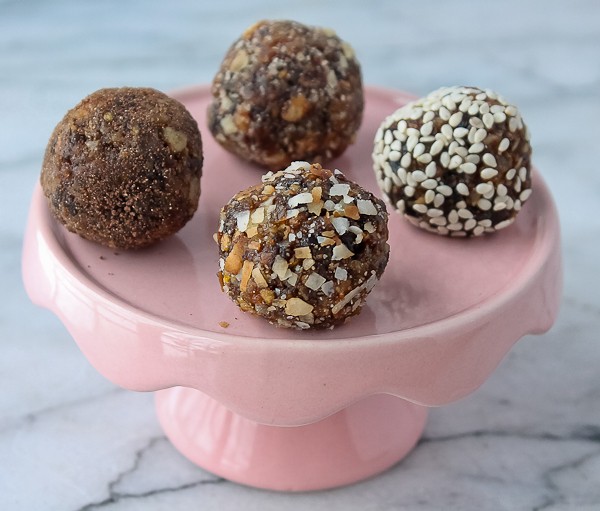 And now for the lucky winner in the random drawing for the Year of Yes book by Shonda Rhimes.
The lucky winner is….
Kim Rollings!
Congratulations, Kim!  I sent you an email to get your address and I'll mail it as soon as I can.  I hope you enjoy it.  Thanks to everyone who entered and I still hope you will all read the book.  It's great!