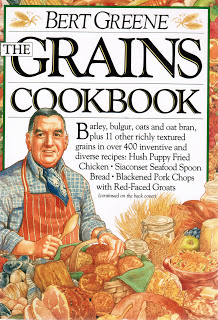 I know.  I can't stop writing about Bert Greene.  I already wrote blogs
here
and
here
, but Bert is just too wonderful, and an endless number of people agree.  This cookbook was Bert's last.  Not long after he completed the manuscript for
The Grains Cookbook
, Bert Greene died.  This explains why we see an illustration on the cover and not the usual photo of the smiling Bert Greene face.  Julia Child said she was glad he didn't leave without giving us his last word – this incredible cookbook. 
Bert Greene drew people to him with his warmth, knowledge, and generosity.   All who knew him express how he made people feel comfortable in the kitchen.  There was a sense of enthusiasm that was contagious.  I recall when I spoke with him at a beef cook-off, I wanted to run into the kitchen and start cooking because he gave me such instant confidence.  Bert had many famous chef friends, but one of his gifts was to encourage the home cook and newcomers to the cooking world. 
In the introduction, Bert explains how he came to write about grains.  He realized  grains are nutritious, sources of fiber, and full of vitamins, but he wasn't pleased with the way they were cooked at some health food restaurants.  He thought they were boring and even tasteless, and he wanted them to simply taste good.  As an experiment in the late 1960's, Bert decided to give up all the foods he normally ate, like meat, fish, cream, eggs, and cheese, and turned to just grains and greens.  He ate his meals at an urban commune in New York City run by very young men and women who placed before him, food without salt or pepper, but mostly without enjoyment.  Bert left this commune quickly.  Later, he decided to return to grains, but with a happier approach and exciting flavors.  He became obsessed with grains and made sure they were no longer boring.  His recipes use barley, bran, bulger, cornmeal, grits, hominy, millet, oats, semolina, quinoa, all kinds of rice, and my favorite, buckwheat.  You will turn out dishes like hush puppy fried chicken, grits primavera, coffee and cream waffles, hoppin' john soup, wild rice and date muffins, and against-the-grain pound cake. 
At the beginning of the book, there are lovely memoirs of Bert penned by such culinary celebrities as Julia Child, M.F.K Fisher, Jacques Pepin, Craig Claiborne, and Mimi Sheraton.  My favorite is from Irena Chalmers who says:
"There was a poignant last line in Bert's obituary in The New York Times, which stated that there were no survivors.  It was wrong.  There are thousands of survivors and we need only read his vibrant words to know that he will always be with us- encouraging, helping, and inspiring.  His own pleasure in sharing good food with good friends has ensured him a permanent place at our table."  
Once again, if you don't own a Bert Greene cookbook, please check them out of your library to first read and study his words.  You will realize why you love cooking-  and no one can describe it better than Bert.