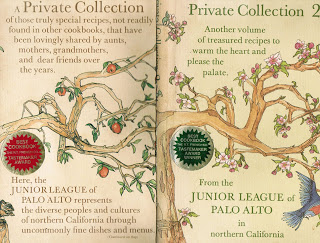 I don't know why I haven't written about these cookbooks yet, because they are two of my all-time favorites.  Private Collection is from 1980, and Private Collection 2 from 1984.  Both are from the Junior League of Palo Alto, California and both won an R.T. French Tastemaker Award for Best Cookbook.   They are small hardbacks with no fancy photos or extras, but pack a punch with the recipes.  If I am ever in a pinch to make something immediately, I turn to these books.  I have also had many successful dinner parties with these incredible recipes. 
The recipes are not difficult, although some may have a long list of ingredients, but don't let that scare you.  One of the longest and most time-consuming is worth every moment you spend in the kitchen.  It's a Beef Bourguignon to die for.  I have made it too many times to count.  What's great about it, is that it is even better if you make it a day or two before serving because the flavors develop even more, which makes it a great party recipe because all you have to do is heat it up.  It serves 24, but don't be tempted to make a half recipe.  Just freeze whatever you don't serve.  You will be happy you did.  The authors suggest serving it with their Baked Hungarian Noodles just a few pages away.  Do it.
Another staple over the years has been the Barbecued Teriyaki Steaks served with a Barley-Pine Nut Pilaf.  We have never tired of this meal.  Others in the first volume that I have made over and over include the Scallops in Watercress Salad, the best Spaghetti Carbonara, Medallions of Pork Veracruz cooked with white wine, vermouth, and orange juice;  and the absolute most perfect beef tenderloin I have ever made.  One of my treasures in this book is for the Spring Salmon that has a garlic-salt rub and covered with fresh lime, with rosemary sprigs tossed into the hot coals for an aroma that will send your neighbors coming over and ask what you are grilling.  It was this salmon that I served to cookbook author Bernard Clayton, Jr.  I have a habit of always writing in the margins of my cookbooks with notes of what I think of it, or what I would change.  On this particular page, all I wrote at the top was "FABULOUS!"  Bernard was in the kitchen with me while cooking and he saw the cookbook sitting on the counter.  He asked if that was the book where the recipe was.  I told him what page it was on, he opened it, smiled at my "Fabulous" remark, grabbed his pen and wrote in: "Agree! – BC, Jr."  And I still smile every time I see his comment.   I served the salmon with new potatoes and chives, and fresh asparagus with Hollandaise.  It was one of the most memorable meals of my life, and yet so simple.
Private Collection 2 is just as fabulous as the first.  The appetizers I love are the Mushroom Croustades, Asparagus Rolls, Shrimp Bread, Mushroom-Chive Bisque, and Sherried Wild Rice Soup.  There is a recipe for Trout Irvine that has a caption reading: "One of our contributing cooks claim that this recipe is so good, she dreams about it!"  If you make it, you will understand.  A very different one called Chicken Supremes in Vermouth was one I almost didn't try.  The spices included cinnamon, allspice, nutmeg, and white pepper, and a sauce with heavy cream and vermouth.  Another "fabulous" written in the margin.   Two other staples include the Pork Roast in Currant Sauce, and the Cornish Game Hens in Grape Sauce.  I can almost smell them roasting just writing the words.  And if you are a fan of fluffy, yeasty, comforting, warm white bread, then look no further.  The recipe is simply called Homemade Bread.  It makes four big beautiful snowy loaves of white bread with golden crusts – and you won't believe this – there is no kneading!  Be sure and save one loaf for making french toast because it makes the best. 
If you find these books on Amazon, don't even hesitate to buy them.   And don't be afraid to write in the margins.