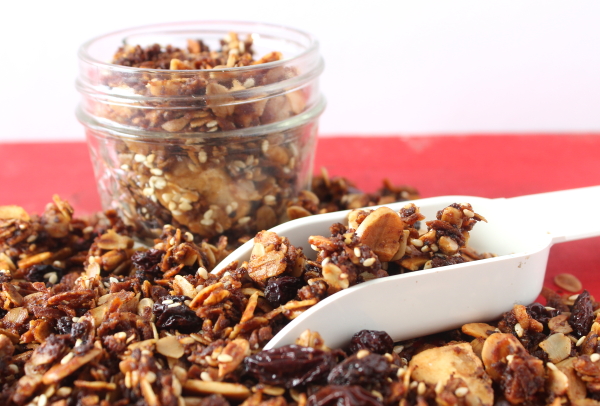 My husband Bill loves cereal, and I love making this one with all his favorite ingredients.  This granola has been his favorite for years.  I like stirring it into Greek yogurt with some fresh fruit.   Bill will eat it plain or with milk.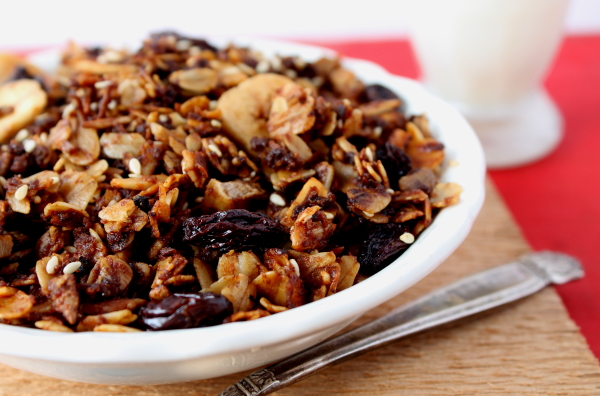 Gather all the ingredients together before beginning and it will go together quickly.  When cooled, store it in an airtight container at room temperature.
Bill's Favorite Granola
2-1/2 cups old-fashioned rolled oats
1/2 cup sliced almonds
1/2 cup shredded coconut
1/2 cup sesame seeds
1/2 cup shelled sunflower seeds
1/4 cup flour
1/4 cup instant nonfat dry milk solids
1/4 cup wheat germ
2 Tablespoons packed light brown sugar
3/4 teaspoon ground cinnamon
1/2 cup canola oil
1/2 cup honey
1/2 teaspoon salt
1/2 cup dark raisins
1 cup dried banana chips
Heat oven to 350 degrees.  In a large bowl combine oats through cinnamon and toss to combine.  In another medium bowl whisk together oil, honey, and salt.  Pour the honey mixture over the oat mixture and stir well to combine, coating all ingredients.  Spread the mixture in a small roasting pan or 9-by-13-inch pan.
Bake for 10 minutes; remove pan from oven and stir well.  Return pan to oven and bake another 10 minutes.  Remove from oven and stir in raisins and banana chips, mixing well.  Return to oven for another 8-10 minutes, checking after 5 minutes and stirring briefly again and continue baking a few more minutes until granola is fragrant and rich in color.  Remove from oven and cool pan on wire rack, stirring occasionally to prevent sticking.  When cooled, store in airtight containers.  Makes about 6 cups.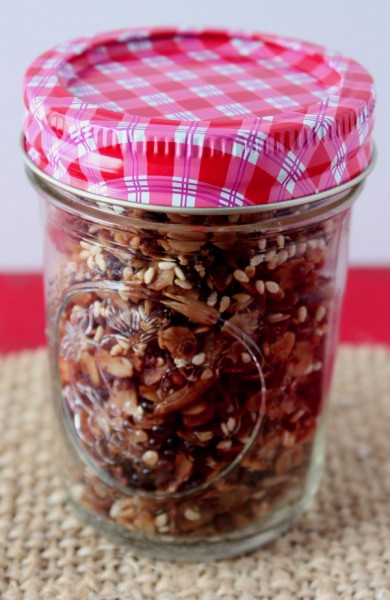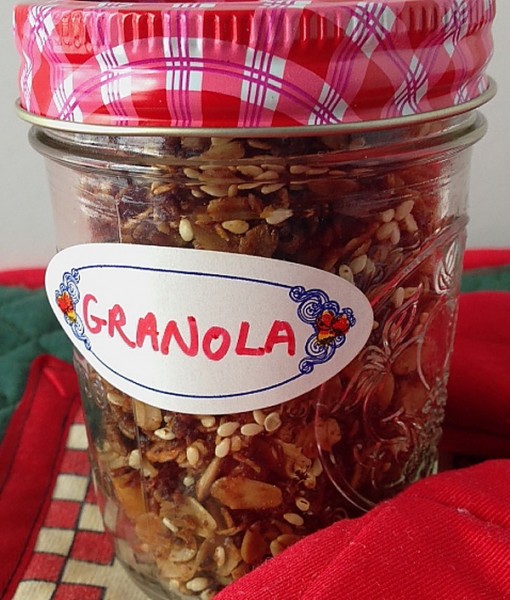 The granola can be placed in jars or other containers and given as a hostess or Christmas gift.  College students love to get it in packages, too!