Many people around the country are becoming winter weary, so how about something bright and tropical to make in the kitchen?  I searched through my pantry and found coconut and mandarin oranges, and since it was morning, these muffins were born for breakfast.
I searched around my props to see what I had that looked like the tropics and found a wooden coconut bowl.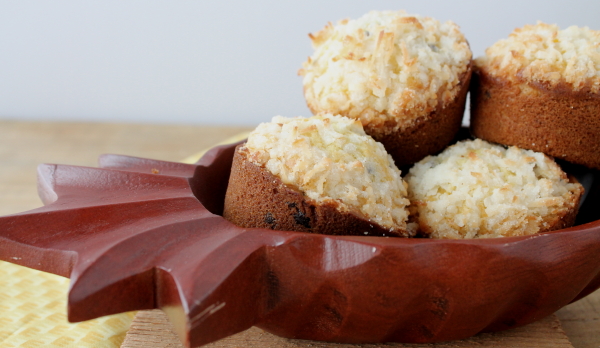 Then I came across a couple items I had forgotten – these ugly little tropical devilish-looking things.  They look like they will bite off your hand if you reach for a muffin.  But my husband thinks they are funny, so here they are.   Actually, he ate several muffins and said the devil made him do it…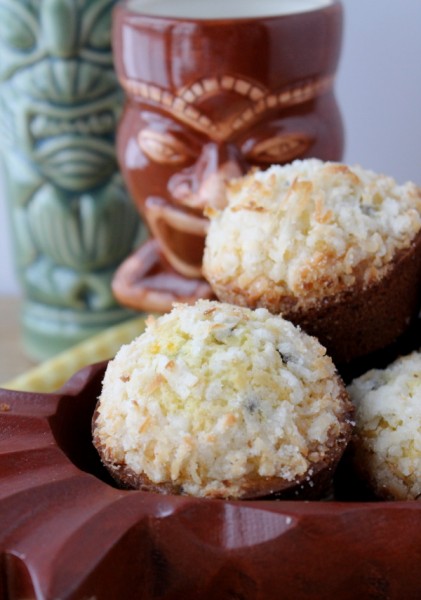 The muffins have some mini chocolate chips,  but next time I might add some chopped macadamias, too.  Add your favorite tropical ingredients and maybe it will help with the cabin fever, at least for breakfast.
Orange-Coconut Tropical Muffins
3 cups all-purpose flour
1 Tablespoon baking powder
1 teaspoon baking soda
3/4 teaspoon salt
1 cup sugar
1 cup orange juice
2/3 cup vegetable or canola oil
2 eggs
1 can (11 ounces) mandarin oranges, drained well and coarsely chopped
2/3 cup mini chocolate chips
Topping:
1 cup shredded coconut
1/3 cup sugar
2 Tablespoons butter, melted
Heat oven to 375 degrees.  Grease, spray, or place muffin liners in 24 muffin cups.
In a large bowl, whisk together flour, baking powder, baking soda, and salt; set aside.
In bowl of electric mixer, beat together sugar, orange juice, oil, and eggs.  Gradually beat in flour mixture until combined.  Fold in the oranges and mini chips.  Mix until blended.  Spoon the batter equally between the muffin cups, filling about half-filled.
For topping, combine all topping ingredients and sprinkle evenly over muffin batter.  Bake for about 15 minutes or until a toothpick inserted in the center of a muffin comes out clean and the coconut is golden.  Cool slightly before removing to a wire rack to cool.  Makes 2 dozen muffins.